Shimadzu Provides State-of-the-Art Aircraft Equipment to Ensure Safety, Comfort, and Lower Stress.
The equipment and systems integrate electronics and other advanced technologies with Shimadzu's precision manufacturing technology cultivated in a culture of tradition. This helps ensure passengers experience safe and comfortable flight.
Aircraft Equipment
Flight control systems / Air management systems / Cockpit display systems / Engine auxiliary components / Magnetism-based measuring equipment
Flight Control Systems
Flight control systems control the lift and attitude of aircraft. Shimadzu develops flap control systems that allow these flight control systems to perform takeoffs and landings more safely. Its high-quality mechanical technology and highly reliable electronic control technology help ensure flight safety.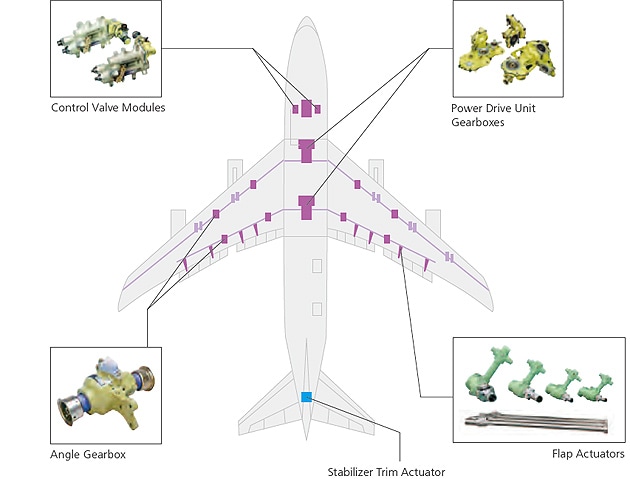 In Charge of Developing and Manufacturing Key Components of the Flap Drive System on Boeing 747-8 Aircraft
Shimadzu is responsible for developing and manufacturing a set of key components used in the flap drive systems on Boeing's latest 747-8 large commercial aircraft. This recognizes Shimadzu's nearly half-century track record in the development and production of many different types of onboard aircraft equipment, as well as the experience gained developing the US-2 and P-1/XC-2 flap drive systems. Shimadzu's technology is attracting attention in skies all over the world.
Air Management Systems
These systems perform the integrated control of air-related systems, such as air-conditioning systems, cabin pressurization systems, bleed air systems, and anti-ice systems. They ensure the comfort of passengers in aircraft flying at high altitudes, and maintain an optimal on-board environment in accordance with the aircraft's thermal load and mission requirements.
Cockpit Display Systems
Utilizing advanced electronics and optics technology, Shimadzu provides display systems such as head-up displays (HUDs) and projection-type head-down displays (HDDs), which show various types of flight information superimposed on images of the outside world. These systems help reduce pilot workload and increase flight safety.