Shimadzu Strives to Help Making People Healthier by Providing High Precision Analytical Instruments.
Precision analytical instruments serve as the foundation for developing next-generation technology. In addition to testing food and drinking water, we also support analysis, such as water quality and air pollution testing, and advanced research in the life sciences.
Analytical Instruments
Mass spectrometers / Chromatographs / Spectrophotometers / Surface analysis & observation systems /Life science lab instruments / Water-quality analyzers / Continuous emission monitoring systems
High-Performance Liquid Chromatograph-Mass Spectrometers
The LCMS-8060, which boasts the highest sensitivity levels in the world and ultra high-speed performance, provides highly accurate data for trace analysis, such as for measuring residual pesticides or contaminants in food products or for measuring pollutants discharged into the environment.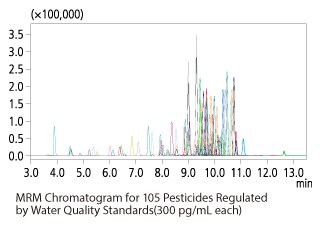 Analytical Instruments That Ensure the Safety of Drinking Water
Water is one of our most familiar and important resources. Shimadzu's comprehensive range of analytical instruments helps ensure the taste and safety of drinking water by monitoring a wide variety of substances, such as carcinogens, mold odor constituents, and pesticides, and checking that they do not reach levels that affect human health.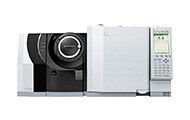 Gas Chromatograph-Mass Spectrometers (GCMS)
GCMS systems enable high-precision measurement of trace components contained in a sample, and are used in a wide range of fields, such as foods, environment, chemistry, electronics, semiconductors, and medicine.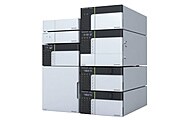 High-Performance Liquid Chromatographs (HPLC)
HPLC systems are used in a wide range of fields, such as foods, environment, biochemistry, and medicine. These systems help increase laboratory analysis efficiency by improving control.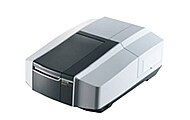 Spectrophotometers
Spectrophotometers measure the intensity of light absorbed or emitted by chemical substances. These systems contribute to advanced fields such as FPDs, semiconductors, optical communications, and optical materials.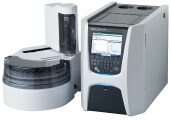 Total Organic Carbon Analyzers
TOC analyzers measure the total quantity of organic carbon in water, gases, and solids. They meet a diverse range of needs in areas such as environmental research, quality control, and process management.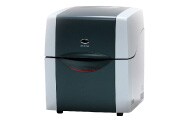 Microchip Electrophoresis Systems
These systems can quickly detect the presence of genes and ascertain their sizes. They help ensure the safety of food products by identifying the causative agents of food poisoning and allergies.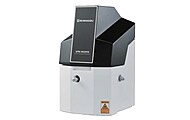 Scanning Probe Microscopes
By making it possible to observe the three-dimensional shape and local properties of sample surfaces at magnification factors of up to one million, these microscopes make a significant contribution to nanotechnology research.