Shimadzu's Measuring, Testing, and Inspection Technology Helps Ensure Safety in Cities and Peace-of-Mind in Our Daily Lives.
Highly precise testing and measuring technology is essential for ensuring safety and reliability with quality testing. These support the manufacturing industry with inspecting products and controlling quality.
Testing/Inspection Machines and Measuring Instruments
Material testing machines / Fatigue and endurance testing machines / Structure testing machines / Non-destructive inspection machines / High-speed video cameras / Powder & particle size analyzers / Balances
Precision Universal Testing Machines
These machines are widely used at facilities conducting product development and quality control to perform strength testing on a wide range of samples from materials such as rubber and plastics to objects such as foods and mobile phones.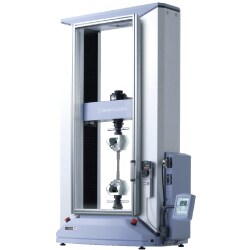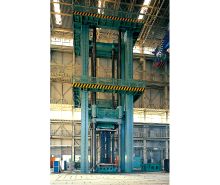 30-Meganewton Universal Structural Testing Machine – Largest of Its Kind in Japan
This machine can be used to obtain measurements for actual structures. It allows confirmation of the deadweight, the load capacity, the load resulting from earthquakes, wind, and snow, and the intensity properties of entire and partial structures, and thereby enables the demonstration of structural safety. It is used in the safety and durability testing of structures, an area that is becoming increasingly important as the scale of buildings and public works increases.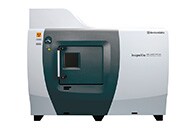 Microfocus X-Ray CT Inspection Systems
These systems use X-rays to nondestructively analyze or inspect the interior of items. They can be used for a diverse range of applications, from tiny electronic parts to automotive aluminum die cast parts.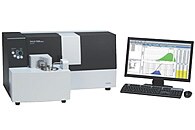 Particle Size Analyzers
These analyzers are able to evaluate the dispersion and aggregation of particles, including nanoparticles. They contribute to fields such as drugs, printer ink, solar power, and fuel cells.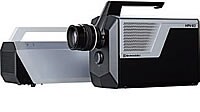 High-Speed Video Cameras
Capable of ultrahigh-speed video recording at up to ten million frames/second, these cameras are used in a wide range of fields such as materials failure, fluid dynamics, combustion, and sports science.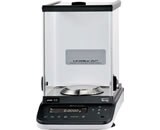 Analytical Balances
Widely used at facilities conducting research and development for their precise weight measurement, these balances deliver high levels of functionality and versatility to address the many needs of research facilities.