Shimadzu's Diagnostic Imaging System Supports the Advancement of Medicine by Contributing to the Early Detection and Early Treatment of Disease.
By developing diagnostic imaging systems equipped with flat panel detectors (FPDs) that offer high image quality, Shimadzu is contributing to the early detection and early treatment of cancers and other diseases in medical facilities throughout the world.

Fluoroscopy systems / Angiography systems / Radiography systems / Near-infrared imaging systems
Fluoroscopy Systems
In combining high-precision FPD with the latest digital image processing technology, these systems strike an excellent balance between ultra-high image quality and low exposure levels. A large field of view of up to 17"x17" improves examination efficiency, allowing these systems to be used for a variety of examination regions, including the gastrointestinal tract, abdomen, and urinary organs, as well as for orthopedic examinations.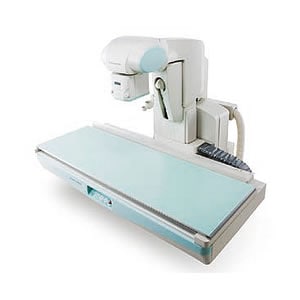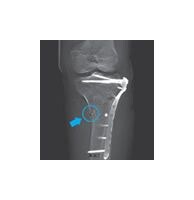 State-of-the-Art Tomosynthesis Technology Helps Reduce Exposure Levels in Orthopedic and Other Applications.
Tomosynthesis allows tomographic images to be easily examined or observed in a manner similar to CT scans. By avoiding other interfering objects in images, tomosynthesis can provide clear images free of artifacts, even for bone fractures fastened with metal. This even allows the healing process of fine bone fractures to be monitored. Furthermore, it offers dramatically lower exposure levels than CT. Therefore, it is anticipated for use in a variety of fields.
Angiography Systems
Offering advanced application software programs to support minimally invasive endovascular applications, which are increasing in number and sophistication each year and patient-friendly high image quality and low exposure levels, angiography systems are used in a wide variety of medical facilities.
Generraphy Systemsal Radiog
In addition to outstanding integrated system functionality, such as auto-positioning and automatic longitudinal radiography functions, Shimadzu general radiography systems allow images obtained with a large field-of-view FPD to be instantly displayed. In addition, the integrated control console, and examination room information display monitor, and other features can significantly improve work flow efficiency.
Mobile X-Ray Systems
Allows verification of images just 3 seconds after they are obtained, and images are sent to a PACS, Picture Archiving and Communication System, less than 30 seconds after the exposure, eliminating the need to replace cassettes and/or read a CR barcode. This reliable, state-of-the-art system not only helps the medical facility implement a more efficient digitalized environment, but also provides better patient care and quicker patient diagnosis.