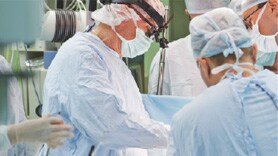 Currently, pathological diagnoses involve acquiring a localized sample, preparing a specimen, observing the specimen under a microscope, and then making a diagnosis. That process requires about 30 minutes. In addition to being time-consuming, it requires significant technical skill by the pathologist. Recently, we developed a new probe electrospray ionization (PESI) technology for mass spectrometry (MS) that enables analyzing data acquired from trace tissue samples. It is the basis for a rapid pathological diagnosis support system (PESI-MS), currently in development, that can complete the measurement process in about two minutes after local sampling.
Note: These measures are still currently in research and development.
FOR RESEARCH USE ONLY. NOT FOR USE IN DIAGNOSTIC PROCEDURES.