SHIMADZU TODAY features Shimadzu Group's latest news, highlights, and stories by categories such as Topics, Technology, CSR, History, Culture, etc. Check out SHIMADZU TODAY and learn more about Shimadzu Group.
Published twice a year, the free on-line Shimadzu Journal will focus on specific topics in each issue.
It introduces collaborative research, and contains many technical reports and application notes written by Shimadzu.
For more details, visit
The Current Issue:Featuring Materials Science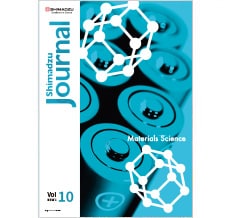 This issue focuses on Materials Science particularly on lithium-ion batteries (LiBs). It starts with two customer interviews in which users discuss their relationship with Shimadzu. The first interview is with Dr. Sascha Nowak, head of the Analytics & Environment division of the MEET battery research center in Münster, Germany. In the second one, we talk with Mr. Keiji Sumiya from the Japanese chemical manufacturer Showa Denko Materials Co., Ltd.. In addition, we highlight four applications on analyzing LiBs from different angles using our latest technologies, and also present information on the latest news and topics.