Analysis of Trace Inorganic Ions in Semiconductor Washing Water
During manufacture, semiconductor surfaces are washed in ultrapure water to remove residual strong acidic ions that can lead to metal corrosion. The analysis of the ions contained in the washing water is extremely important for quality control.
This requires ion detection at the several-ppt (parts per trillion) level. Shown here is the analysis of trace ions in semiconductor washing water using an ion chromatograph.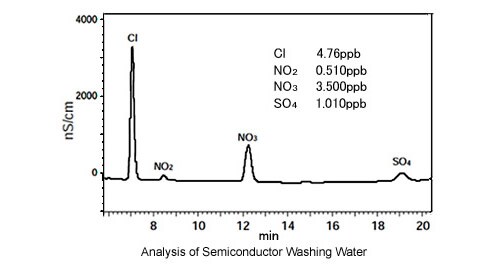 This separation/analysis instrument is widely used for the quantitative analysis of inorganic ions. Ion chromatographs are available as suppressor types that allow ultra-high-sensitivity analysis to the ppb level and as non-suppressor types that support diverse applications.