Cross-Sectional Observations of Silicon Wafer Thin Films
The observation of the cross-section of thin films is important to discover the state of the boundary with the base substrate, the graininess in the layer, and interlayer adhesion and diffusibility with respect to different thin films.

The cross-section through a silicon oxide film was observed using a scanning probe microscope. The film thickness was measured as 477 nm. The graininess within the oxide layer and the boundary with the base substrate can be observed.
Click here for other SPM applications.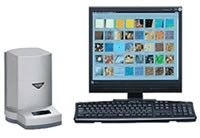 Scans the sample surface with a microscopic probe to provide high-magnification observations of the 3-dimensional form. It permits nm-order observations and shape measurements of solid and film surfaces in air or in solution.