Color Intensity of Food Coloring
Color Value Measurement of Food Colorings by UV-VIS Spectrophotometer
In the compositional standards for natural food coloring additives, the components generating the color differ according to the origin, season, and time the raw materials are collected, making it more difficult to quantify the contents of these major components than those associated with artificial food colorings. Therefore, it is necessary to measure the color value (color intensity). The color value was measured for three food colorings typically used in Japan (FD&C Blue No. 1 (E133), FD&C Yellow No. 5 (E102), FD&C Red No. 2 (E123)) using a UV-VIS spectrophotometer.

Results
The color value (color intensity) was measured from the UV absorbance. The color value of a food coloring solution is typically determined by measuring the absorbance in the visible range at the maximum absorbance wavelength. It is indicated as a value converted to the absorbance in a 10 w/v% solution (E10%1Cm).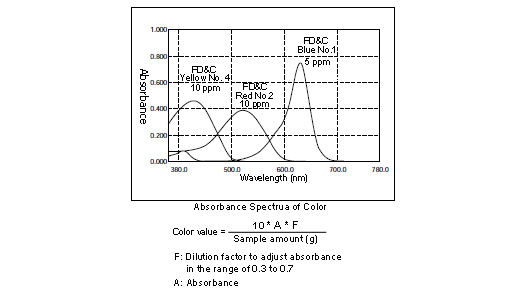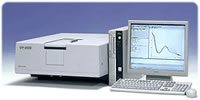 A UV-VIS spectrophotometer can conduct reflection and absorption measurements on solid samples (powders, semiconductors, thin films, glass) as well as conventional liquid samples. Both a double monochromator type (UV-2700), which ensures low stray light and a wide range, and a single monochromator type(UV-2600), which offers with excellent cost performance, are available. Both models incorporate the next-generation UVProbe software to achieve sophisticated functionality.