Natamycin is a polyene macrolide antibiotic which specifically suppresses the growth of molds and yeasts. In Japan, it was designated as a food additive for coating cheese on 28 November 2005, resulting in a revision of the analytical methods for food additives to include the analysis of natamycin by HPLC. The example of HPLC analysis of natamycin in cheese is introduced below.

Results
Commercially available cheese spiked with a natamycin standard was pretreated and analyzed. Natamycin was separated from complex impurity components and detected.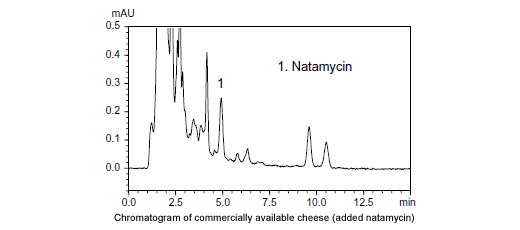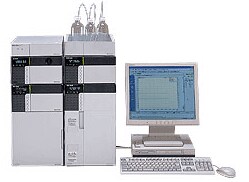 A liquid medium flows through the flow channels of a high-performance liquid chromatograph (HPLC). When a sample is introduced into the instrument, the components of the sample are separated in a column and the amount of each component is measured by a detector. The Prominence Series reduces the electrical noise of the SPD-20A UV detector and incorporates a temperature-controlled cell as standard to achieve world-class sensitivity and stability.