Amino acids in foods can be easily analyzed at high sensitivity and high accuracy by a high-performance liquid chromatography amino acid analysis system. The system separates the amino acids in a cation exchange column, converts them to fluorescent derivatives through reaction with an o-phthalaldehyde (OPA) reagent, and detects these derivatives by fluorescence detection. The diagram shows the analysis of soy sauce using only simple dilution and filtration operations.

Amino Acid Analysis System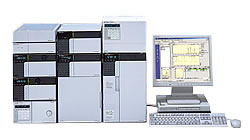 Post-column fluorescence detection using an OPA reagent achieves at least an order of magnitude higher sensitivity than the ninhydryn method. After the amino acids are separated by ion-exchange chromatography, they are derivatized through reaction with an OPA reagent, and detected by fluorescence detection. This achieves highly accurate quantitation without the adverse effects of impurities that sometimes affect pre-column derivatization. This system is superior in terms of detection sensitivity, selectivity, and ease of operation, and is widely used for foods analysis and in other fields.