Preparative Analysis of Catechins
Currently, catechins in green tea are used in processed foods as well as in a wide array of research. An LC/MS can facilitate the tasks of fractionating each of the catechin components in green tea and verifying/analyzing respective collected fractions. It achieves this by automated fraction collection, setting appropriate collection parameters, and high speed verification analysis.
The figure shows the configuration of an LC/MS system for fractionating catechins. This system conducts mass spectrometry on each catechin component and fractionation using the intensity and slope indices of the obtained mass chromatogram. In addition to the high separation performance of HPLC, more reliable fractionation of target compounds can be achieved due to the high selectivity of the mass spectrometer.

The following shows an example of LC/MS fractionation conducted on catechins in green tea. The separation state on the UV detector (SPD-20A) immediately before the fraction collector also allows verification as to whether fraction collection is being performed accurately.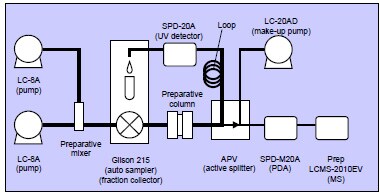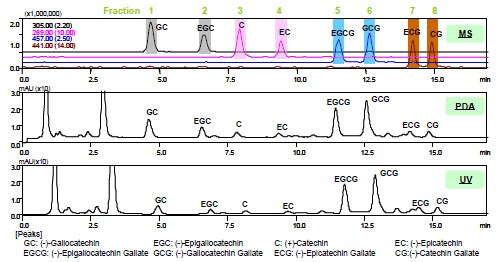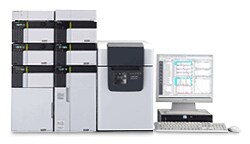 The newly designed interface and ion optical system achieves high sensitivity and stability. This best-in-class liquid chromatograph mass spectrometer provides full support functions for photodiode array detectors and offers a multi-sequence mode that can analyze data with a single sample injection using various analytical conditions.