Inorganic Components in Processed Foods
Foods contain many different chemical elements. It is important to separate the necessary elements from the harmful elements. ICP emission spectrometry permits the simultaneous analysis of these elements and is extremely effective for determining the mutual relationships between the elements.
The table below shows analysis results for tuna, ankake-dofu (beancurd with kuzu sauce), vegetables cooked in miso, savory rice gruel, and rice porridge.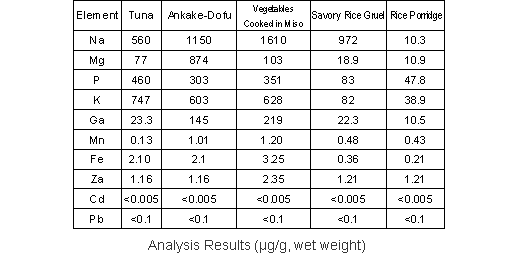 Sequential Plasma Emission Spectrometer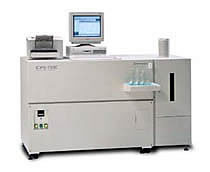 The ICP-7510 boasts high speed and high resolution. The twin sequential monochromators enhance the speed to yield semi-quantitative values in approximately three minutes for the qualitative analysis of 72 elements. The analysis of metal, rare earths, and soils requires high wavelength resolution. The ICP-7510 achieves unparalleled 0.0045 nm (4960/mm) ultra-high resolution. Simultaneous analysis from ppb to percent levels offers easy analysis, ranging from principal components to trace elements.