Organic acids in foods can be easily analyzed at high sensitivity and high accuracy by a high-performance liquid chromatography organic acid analysis system. This system separates the organic acids in an ion exclusion column, adds Bis-tris solution, and detects the organic acids with an electric conductivity detector. The diagram shows the analysis of beer using only simple degassing and filtration operations.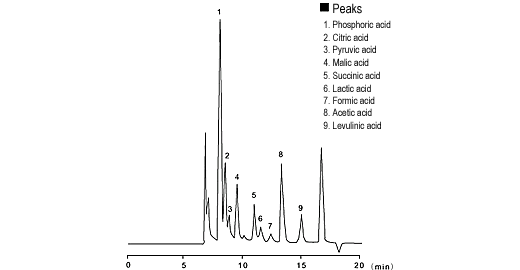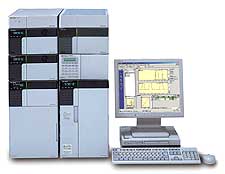 Organic Acid Analysis System
The organic acid analysis system uses Shimadzu's unique post-column pH-buffered electroconductivity method for the selective and sensitive detection of organic acids. This system significantly improves quantitation reliability compared to conventional methods, such as the UV short wavelength method or the simple conductivity method. After the organic acids are separated by ion exclusion chromatography, a pH buffer reagent is continuously added to the column eluate to maintain the pH close to neutral and put the organic acids in a dissociative state for detection by the electric conductivity detector. This system is ideal for the analysis of compounds containing many impurity components, such as foods.