Microscope Observations of O157
When an outbreak of food poisoning occurs, an approximate identification of the causal factor or causative organism is extremely important. A high-resolution scanning probe microscope permits easy observations of bacteria in air.

Results
Bacteria were observed using a scanning probe microscope.
The picture to the left shows enterohemorrhagic E. coli O157: H7. The rod-shaped bacteria and flagella are clearly visible.
The picture to the right shows bacillus cereus, which causes food poisoning. The oval spores (diameter: approx. 2.3 µm; minor axis: approx. 1.7 µm) and the approximately 7 µm-long trophozoite cells can be seen.
Detailed data are available in the SPM Data Room.
1-13 Observation of Enterohemorrhagic E. coli O157:H7
1-18 Observation of Bacillus cereus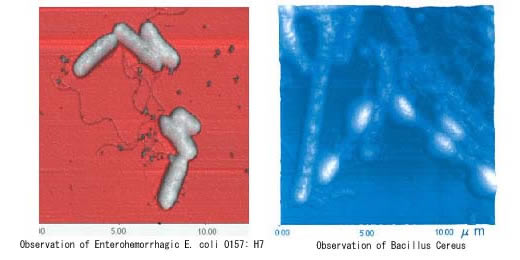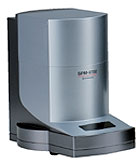 This instrument traces the contours of the sample's surface with a needle-like sharp tip to capture the surface topography in three dimensions and acquire information on the surface's physical properties.