Nucleotides in Fresh Tuna Meat
Reversed-phase chromatography can quantify a total of six components – four types of nucleotides, hypoxanthine and inosine; therefore, this technique can be applied to the measurement of K values (freshness index) in seafood. The following example shows the separation of eight adenine derivative components in tuna meat by high-performance liquid chromatography (HPLC).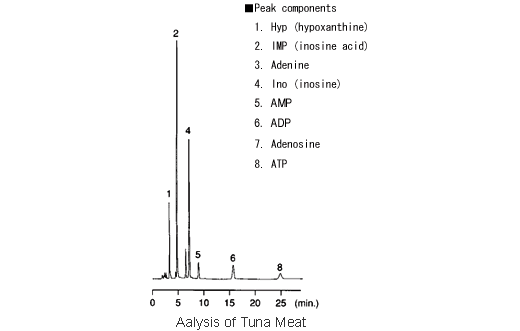 A high-performance liquid chromatograph (HPLC) measures the content of various components in a sample. A liquid medium flows through the HPLC flow channel. When a sample is introduced into the instrument, the components of the sample are separated in a column and the amount of each component is measured by a detector. HPLC can handle a much wider range of target samples and components than GC, including difficult-to-vaporize and heat-sensitive components.