Particle Size Distribution of Tea Beverage
Particle Size Analyzer
Some conventional canned tea beverage are now being sold in PET bottles. As a part of quality control tests, there are an increasing number of particle size distribution measurements conducted to evaluate cloudiness and residual particles.
The same brand of tea beverage was used to determine its particle size distributions in cans and PET bottles. The normally used indicators - median diameter (50% diameter, D50) and particle size at a given % - were compiled to evaluate the particle size distribution.
The comparison results indicate that the coarser particles are removed from the tea beverage sold in PET bottles.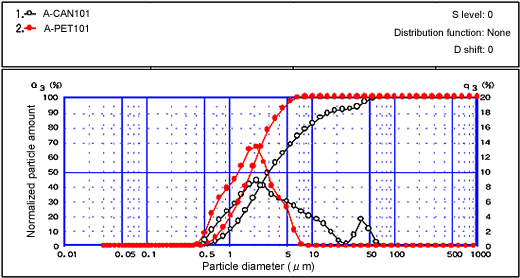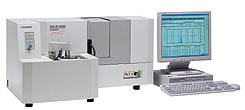 Foods come in various forms, from solids and liquids to flour and other powders to creamy emulsions such as butter and mayonnaise. Some foods have a powder form at intermediate production stages. Some final products may separate during storage due to the particle size distribution. The particle size analyzer provides numerical data to determine the particle size distribution at intermediate stages and supplies effective data for quality control.