Metabolomics Analysis for Food metabolomics
Metabolomics is applied to a wide range of fields such as quality control and quality prediction in the food field. Metabolome analysis covers a large number of metabolites and a wide range of chemical properties. For this reason, GCMS and LCMS are often used.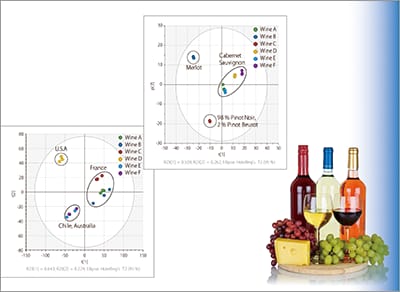 Comparison of Grape Varieties and Production Areas for Red Wine
Acids in wine not only affect the color, balance and taste of the wine, but are also involved in yeast growth during fermentation and protection from bacteria. Therefore, it is important to analyze the acid in wine for the evaluation and improvement of wine and the control of winemaking process.
In this study, hydrophilic compounds in wines were analyzed comprehensively using LC-MS/MS methods to search compounds that are characteristic of wines that are different grape varieties and producing regions.
Although quality evaluation methods for food products vary greatly depending on the food type and investigative objectives, nowadays evaluations that examine food trends are widely conducted by performing total analysis followed by multivariate analysis on the components contained in the target food.
In this article, metabolites contained in samples of different brands and production lots of alcoholic beverages are measured to investigate whether differences between brands of beer can be identified.
Mass spectrometers have excellent qualitative analysis performance and are extremely powerful in identifying detected components. On the other hand, in the case contamination is accumulated in them, there is a tendency that the quality of the data varies greatly before and after the tuning information is updated.
In this article, we examine whether metabolomics using GCMS in this way can be accomplished using GC-FID as an alternative, and we found that a number of peaks comparable to those with GC-MS could be detected, and that the intensities of these peaks were more stable than with GC-MS over both hours and days