Automated Preparation and Quality Test for Antibody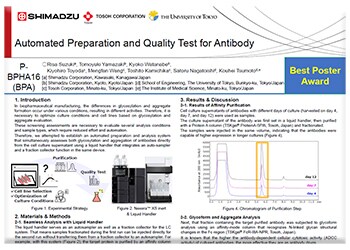 In biopharmaceutical manufacturing, the differences in glycosylation and aggregate formation occur under various conditions, resulting in different activities. Therefore, it is necessary to optimize culture conditions and cell lines based on glycosylation and aggregate evaluation.
These screening assessments are necessary to evaluate several analysis conditions and sample types, which require reduced effort and automation. Therefore, we attempted to establish an automated preparation and analysis system that simultaneously assesses both glycosylation and aggregation of antibodies directly from the cell culture supernatant using a liquid handler that integrates an auto-sampler and a fraction collector function in the same device.