LC-MS/MS Method Development for Sulfite in Food and Beverage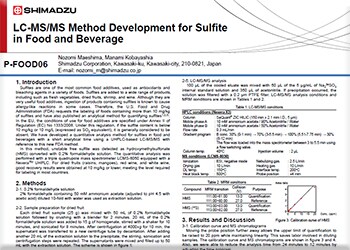 Sulfites are one of the most common food additives, used as antioxidants and bleaching agents in a variety of foods. Sulfites are added to a wide range of products, including such as fresh vegetables, dried fruits, shrimp, and wine. Although they are very useful food additives, ingestion of products containing sulfites is known to cause allergy-like reactions in some cases. Therefore, the U.S. Food and Drug Administration (FDA) requests the labeling of foods containing more than 10 mg/kg of sulfites and have also published an analytical method for quantifying sulfites1,2,3). In the EU, the conditions of use for food additives are specified under Annex II of Regulation (EC) No 1333/2008. Under this regulation, if the sulfite content is below 10 mg/kg or 10 mg/L (expressed as SO2 equivalent), it is generally considered to be absent. We have developed a quantitative analysis method for sulfites in food and beverages with a short analytical time using a UHPLC-based LC-MS/MS with reference to this new FDA method.
In this method, unstable free sulfite was detected as hydroxymethylsulfonate (HMS) converted with 0.2% formaldehyde solution. The quantitative analysis was performed with a triple quadrupole mass spectrometer LCMS-8050 equipped with a NexeraTM UHPLC. For dried fruits (raisins, mangoes), red wine, and white wine, good recovery results were obtained at 10 mg/kg or lower, meeting the level required for labeling in most countries.