Basic Concept of Our Environmental Activities
We promote environmental activities comprising three pillars, aiming to share the natural environment including resources and ecosystems with future generations.
The first pillar is the contribution to global environmental conservation with technological development of products and services we provide. We will proactively supply"Environment-conscious products" designed to have low environmental impacts throughout their lifecycle, such as energy-saving and resource-saving products, and"environmentally beneficial products" that contribute to environmental improvement with functions and usages such as effluent monitoring systems.
The second pillar is to prevent environmental pollution through reduction of environmental loads in various business activities such as development of products and manufacturing. Based on ISO 14001, we are working for proper management and reduction in emission and usage through continuous improvements.
The third pillar is the support for environmental activities of external stakeholders by using our knowledge and know-how.
We carry out positive activities including visiting lectures on the environment at schools, conducting factory tours, giving lectures, preserving local environment around out sites, and others.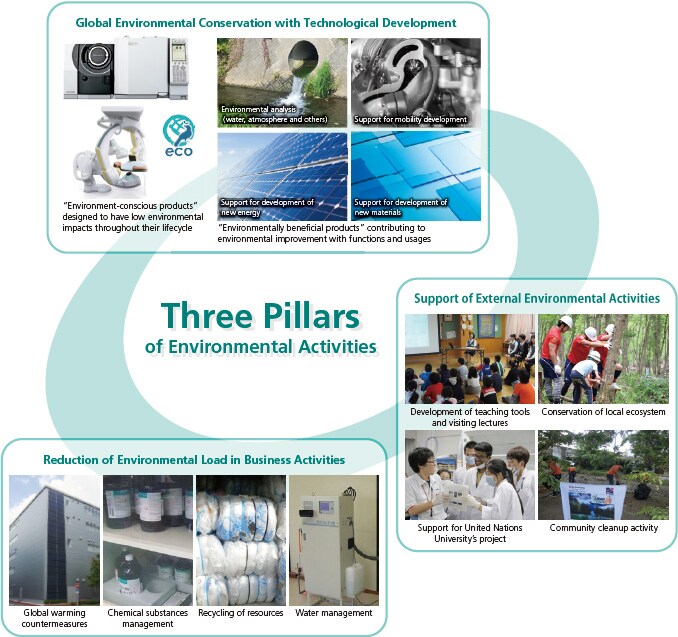 Environmental Policies of Shimadzu Corporation Head Office and Factories & Related Offices
1. Basic Philosophy
Human health and environmental preservation on a global scale are goals shared throughout the world. As a member of the international community, we at Shimadzu consider global environmental problems as one of our most important concerns, and we conduct our business activities in accordance with the management principle, "Realizing Our Wishes for the Well-being of both Mankind and the Earth." We strive to achieve an abundant society while preserving and protecting the environment.
2. Basic Policies
Business operations at the Head Office and Factories & Related Offices of Shimadzu Corporation (hereafter referred to as Shimadzu Corporation) are committed to expanding the development, manufacture, sales and service of scientific equipment. These include analytical instruments; measuring instruments; testing machines; medical equipment; aircraft equipment; hydraulic equipment; industrial equipment; and bio-products and sensor devices, including environmental analysis and measurement instruments. At the same time, these business operations are dedicated to identifying the impact that business activities at the corporate Headquarter Offices district, our products and their manufacturing processes, and related services may be having on the environment. The continual improvement of our environmental
management system actively contributes to steadily reducing the burden on the environment, to preventing pollution and to enhancing the social environment. Such activities are based on the following policies:
Business operations in Shimadzu Corporation will make harmonizing its business activities with the preservation of the global environment one of the highest priorities.

To promote activism for global environment preservation, an organizational system is provided that allows the opportunity for all business organizations, including employees and all people in the site to participate.

The company will contribute to global environmental preservation by engaging in activities to promote environmental education and to raise awareness that employees and all people in the site should be involved in.

The company will work to accurately identify the effects that the business operations have on the environment (such as environmental pollution, resource depletion, global warming, destruction of the ozone layer, loss of biodiversity) and work to constantly increase environmental preservation activities, as much as technologically and economically possible.

The company will strive to observe not only applicable legal requirements regarding environmental aspects, such as international, national and local environmental laws and regulations, but also any other requirements agreed to by the company. To preserve the environment, the company will even establish its own voluntary standards when necessary.

Of the environmental effects that the business activities of our business operation in Shimadzu Corporation may have, promoting preservation activities with respect to the following effects will be given special priority:

1. The company will reduce environmental impacts, promote usage of sustainable resources and prevent environmental pollutions by the business operations.

2. The company will actively provide products whose functions and performance contribute to improvement of social environments (environmentally contributing products) and products that take into consideration the reduction of environmental load through the product lifecycle (environmentally friendly products).

3. The company will reduce greenhouse gases emissions, including CO2 emissions that lead to global climate change, and contribute to prevention of global warming and realization of a low-carbon society.

4. The company will make every effort to conserve biodiversity by improving on existing environmental activities.

5. The company will support external environmental activities using the know-how accumulated for preserving the environment.

The company will strive to establish communication with local residents and related government organizations, in order to make contributions to the local community
Hiroshi Fujino
Environmental Committee Chair Head Office and Factories & Related Offices,
Shimadzu Corporation