In June 1997 the ISO14001* accreditation was attained in the Kyoto district where the head office of Shimadzu Corporation and the main factory is located. The Hadano Works followed in 1998.
As of April 2015, all our production base, major sales sites and environmentally primary subsidiaries in Japan have obtained ISO14001.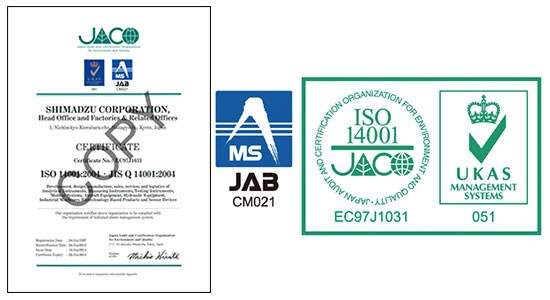 *The ISO14000 series refers to the set of international standards, created as a measure to tackle worsening global environmental problems, that allows each corporation/organization to engage in economic activity that places environmental conservation at the forefront of their operations. This set of standards prescribes the various factors required to build an Environmental Management System (EMS) that contributes to environmental conservation.
By continuing to improve our corporate activities in accordance with these standards, we aim for lasting improvement in environmental performance (ISO14001 corresponds to the standards within the ISO14000 series that pertain to Environmental Management Systems).
Like the ISO9000 series, the "third party auditor certification system (environmental management certification system)" is starting to become widespread internationally. The certification provides proof that the company is acting with concern for environmental problems as a member of the international community, and is engaging in environmentally responsible activities.