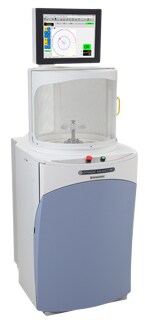 V-10NEII
It is a standard machine which can be used in a wide range of industrial fields.
The Shimadzu Dynamic Balance machine V series is a Dynamic Balance machine which plays a big role in a check of the solid of revolution in the production site of electrical machinery industrial products, such as parts of a motor-car or an autobicycle, a motor, and a wing of a chilling machine and a fan motor.
Features
The compact design united with the measuring device, the main frame of a personal computer, the liquid crystal display monitor, and the main frame of a unit.

Touch-panel monitor adoption realizes easy operability.

Operating system and an application program adopt Compact Flash strong against particulates.

A weight saving is carried out from the conventional article of our implementation, and I equip standardly the safe covering which becomes and closes it easy to open.

I am enabling the association for an English-language edition and the Chinese version, and an activity overseas is also safe.
Specifications
Model
V-10NEII
Workpiece weight
(up to 120% including adapter) (kg)
0.3 to 10
Max. Workpiece diameter (mm)
400
Testing Speed (rpm)
1200
Drive motor (kw)
1.5
Min. Achievable residual unbalance (μm)
0.5 (mass eccentricity for a workpiece of max. weight)
Min. Achievable unbalance (g・mm)
1.5 to 5
Size (W×D×H mm)
584×794×1676
Weight (kg)
300
Power supply
3-phase 200V 20A 7KVA
Note: Specifications and appearance are subject to change without notice.