High-Speed and High-Quality, Thin-metal film deposition on injection-molded 3D plastic products. Laminate with SiOx protective layer can be built on demand.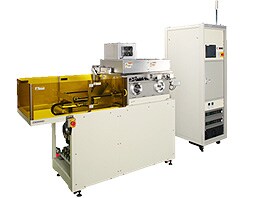 Features
High productivity is achieved by high-speed film deposition and production cycle.

The high speed production cycle by combination with the injection molding machine improves yield by reducing moisture absorption and dust adhesion. And it also contributes to cost reduction by automating operation between the injection molding machine and this sputtering machine.

Excellent coverage

Higher adhesion is achieved using a proprietary process. Films can also be deposited on polymethyl methacrylate (PMMA).

Simple batch system offers a low footprint and easy maintenance.
Application Examples
Mirrors for Head-Up Displays (HUD)

Reflectors for headlamps

Various optical parts (anti-reflection (AR) films and high-reflection films)
- Plastic lenses
- Polygon mirrors
- Mirrors

Electromagnetic wave transmission (millimeter wave transmission) films with metal color

Hexavalent Cr (Chromium) free process (Possible to convert dry process from wet-etching by Hexavalent Cr and electroless plating.

Decorative films
Examples of Film Deposition Objects
Various plastic materials such as polycarbonate (PC), cyclic olefin polymer (COP), cyclic olefin copolymer (COC), polymethyl methacrylate (PMMA), and acrylonitrile butadiene styrene (ABS)

Various metals and glass (Please inquire for details.)
Examples of Applicable Parts and Film Deposition Material
Application
Base Material
Film Material
Category

PC
ABS
COP/COC
Al
Cr
SUS
Ti
Automotive

LED Headlamp Reflectors
○
○
HUD Mirrors
○
○
○
Metering
○
○
Home Appliances and Toys
Decorative Parts
○
○
Precision Equipment
Watch Dials
○
○
○
○
○
Illustration of the UHSP-T2040H used in combination with a Molding Machine