Article
Use of Shimadzu's Trinias Technology at Zhongshan Hospital in Shanghai
Zhongshan Hospital, affiliated with Fudan University in Shanghai, officially adopted Shimadzu's Trinias angiography system in April 2019. As a pioneer and leader in PCI development in China, Zhongshan Hospital treats more than 8,000 PCI cases per year. Trinias is the first Shimadzu angiography system installed by the hospital. In order to find out about the characteristics of Trinias and what makes it so attractive, we interviewed Professor Ge Junbo of the Cardiology Department at Zhongshan Hospital in Shanghai. Professor Ge is a member of the Chinese Academy of Sciences, and we ask him to answer our questions about what make the Trinias so appealing.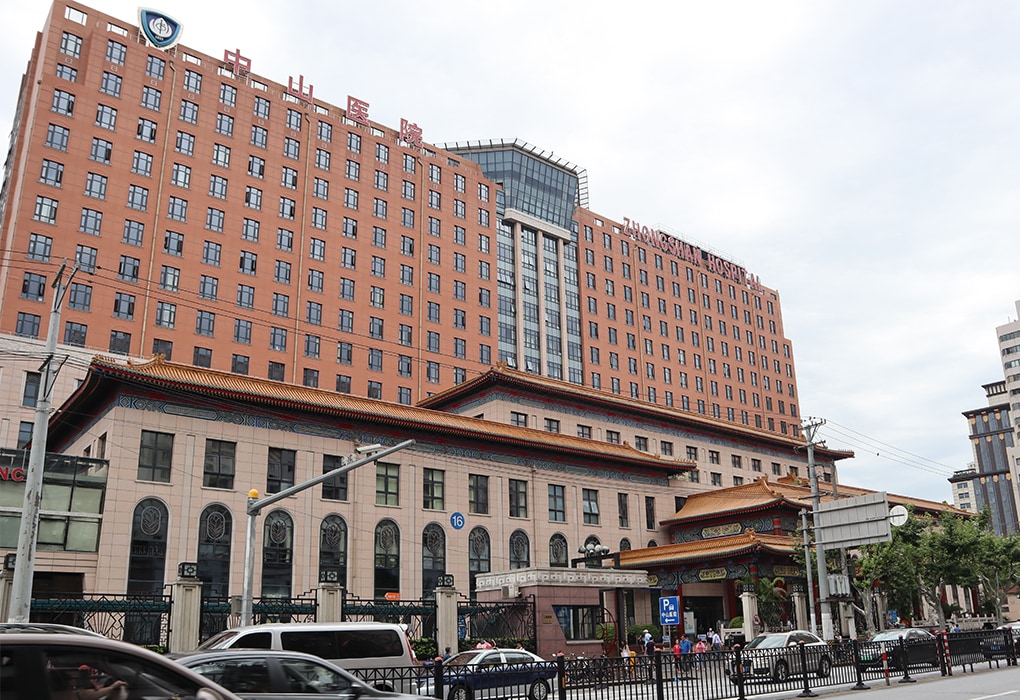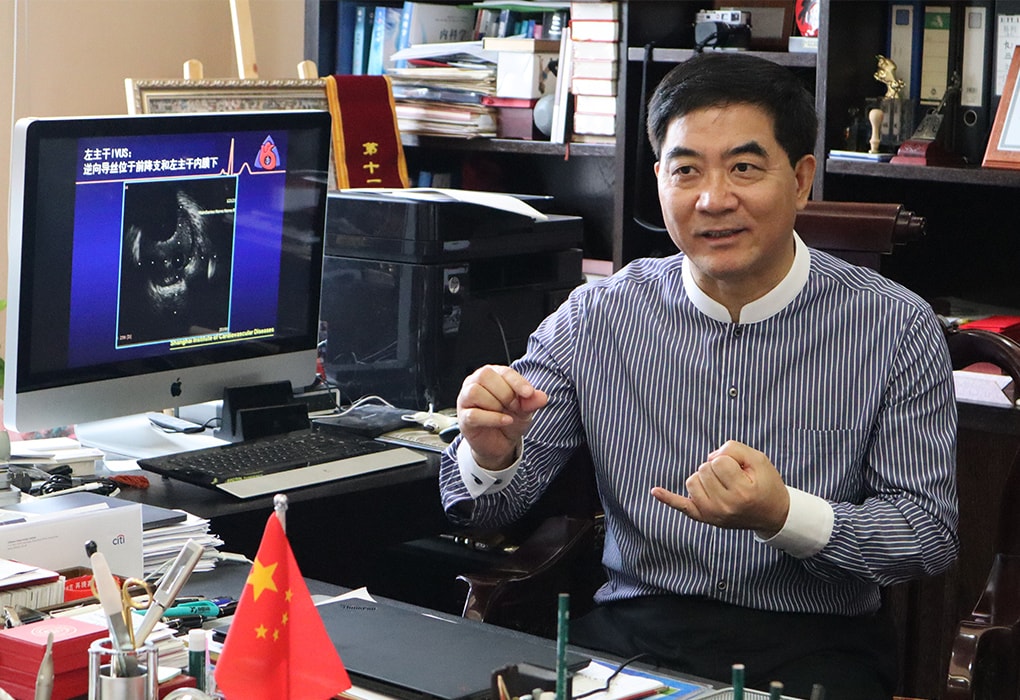 Q1 Please share with us the history of the Cardiology Department of Zhongshan Hospital, Fudan University.
A1

Zhongshan Hospital was the first national hospital of its kind and was founded by Sun Ke, son of Dr. Sun Yat-sen, who initiated the fundraising in 1937. The Cardiology Department was established in 1948 by a group of cardiovascular pioneers in China. Among them was Professor Tao Shouqi, who established the Cardiology Team of the Internal Medicine Department of Zhongshan Hospital in 1948. That team was the predecessor of the Cardiology Department. The Shanghai Institute of Cardiovascular Diseases was established in 1958. In addition to the prevention, diagnosis, and treatment of cardiovascular diseases, the institute is also devoted to research related to cardiology, cardiac surgery, and certain epidemiological studies.
In the beginning, the Cardiology Department had very few beds. When I first returned to China in 1999, there were about 80 beds in the Cardiology Department and 40 beds in the Cardiac Surgery Department of Zhongshan Hospital. This was mainly because of the relatively low incidence of coronary heart disease at that time, compared with the relatively high incidence of hypertension, myocarditis, and other conditions. Since China's economic reform and the introduction of the Open Door Policy, together with the improvement in people's living standards, diseases dominated by coronary heart disease, have become mainstream. Initially, we needed to share a catheterization room with the Radiology Department, but now we have nine independent dedicated catheterization rooms. PCI cases have also increased from 80 per year previously to more than 8,000 per year. At present, there are 320 beds in the Cardiology Department and 150 beds in the Cardiac Surgery Department, in addition to 29 beds in the CCU and 41 beds in the ICU. I believe that there are two main reasons for this rapid development: one is to meet the needs of disciplinary development, and the other is the explosive increase in the incidence of coronary heart disease in China.
Q2 Why did you choose Shimadzu's Trinias system?
A2

I knew of Shimadzu when DSA was still in the era of image intensifiers. It is a pity that no Shimadzu system was installed in our hospital at that time. Nowadays, we have entered the era of flat panels, and I often see Shimadzu flat panel DSA systems at international conferences. They have a very compact design, boast high image quality, and have a very low radiation dose, which satisfies our current cardiology treatment needs in China.
It is important to emphasize here that due to the sharp increase in domestic cases, our hospital is very concerned about radiation dose. Professor Ge Lei of our hospital has published an article discussing the use of different frame rates (7.5 fps and 15 fps) to treat complex lesions. For general angiography or simple cases, 15 fps does not have much effect due to the short operation time, but for procedures on complex lesions such as CTO, which may take 4 to 5 hours, the difference between 7.5 fps and 15 fps is significant when taking into account the damage to the physician and the patient. We often see that after performing multiple interventional procedures in a short time, the patient will have radiation burns on the back. The burns will not heal and must be skin grafted. This also leads to an increased incidence of tumors. Therefore, in order to reduce physical injury to patients, we now actively use the 7.5 fps mode when performing CTO procedures. However, negative aspects of using a low frame rate mode can include low image quality, as well as artifacts resulting from balloons, guide wires, and other devices. For operations involving a long procedure, the physician will feel that the image is rough on the naked eye and the artifacts that occur cause great visual fatigue. Thanks to Shimadzu's latest image processing technology, however, Trinias boasts excellent performance even in the 7.5 fps mode, maintaining high image quality while removing artifacts, and enabling the physician to see clearly and achieve better procedure results. In addition, on carrying out a comparison, I found that Trinias dose management is among the top in the industry, and the radiation dose is relatively low when treating various clinical diseases. This is an excellent feature. It not only ensures good image resolution but also minimizes radiation dose, protecting both the patient and the physician. This is one of the main reasons why I chose Trinias.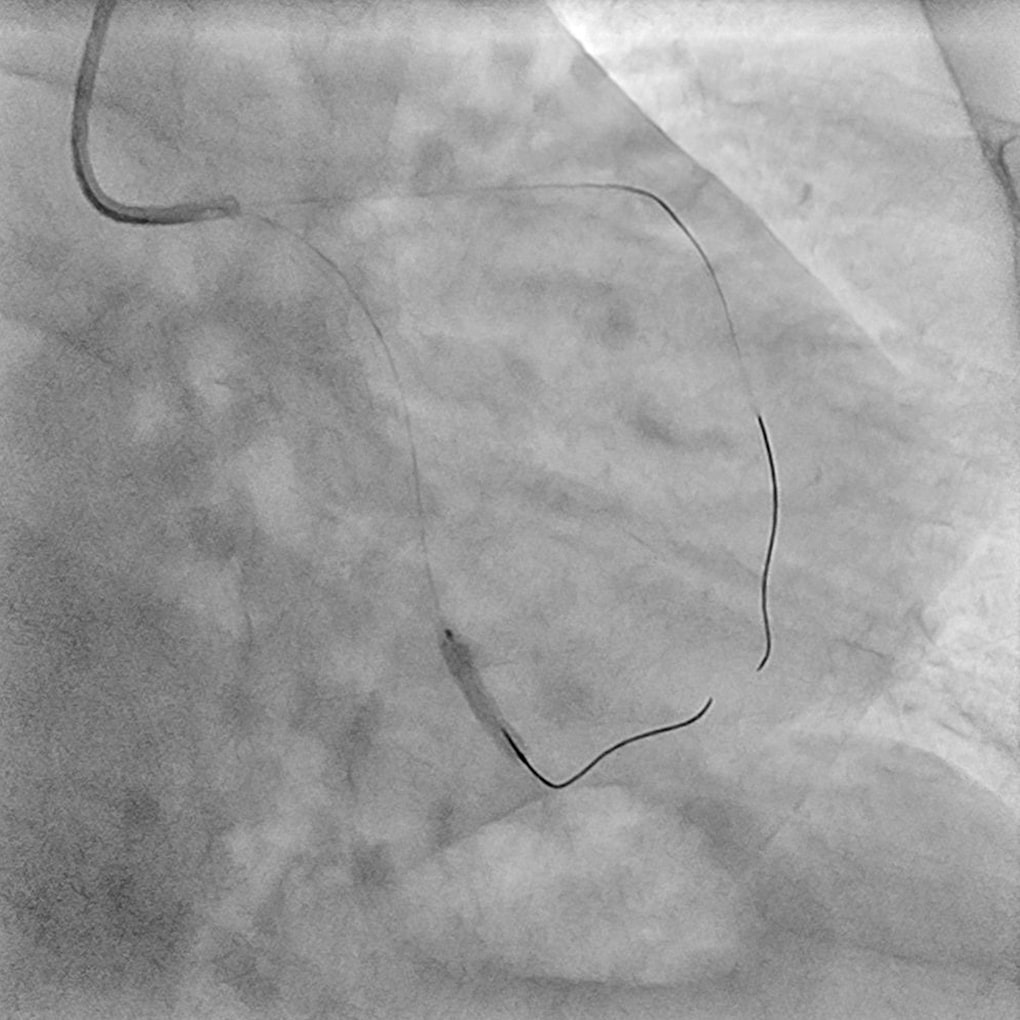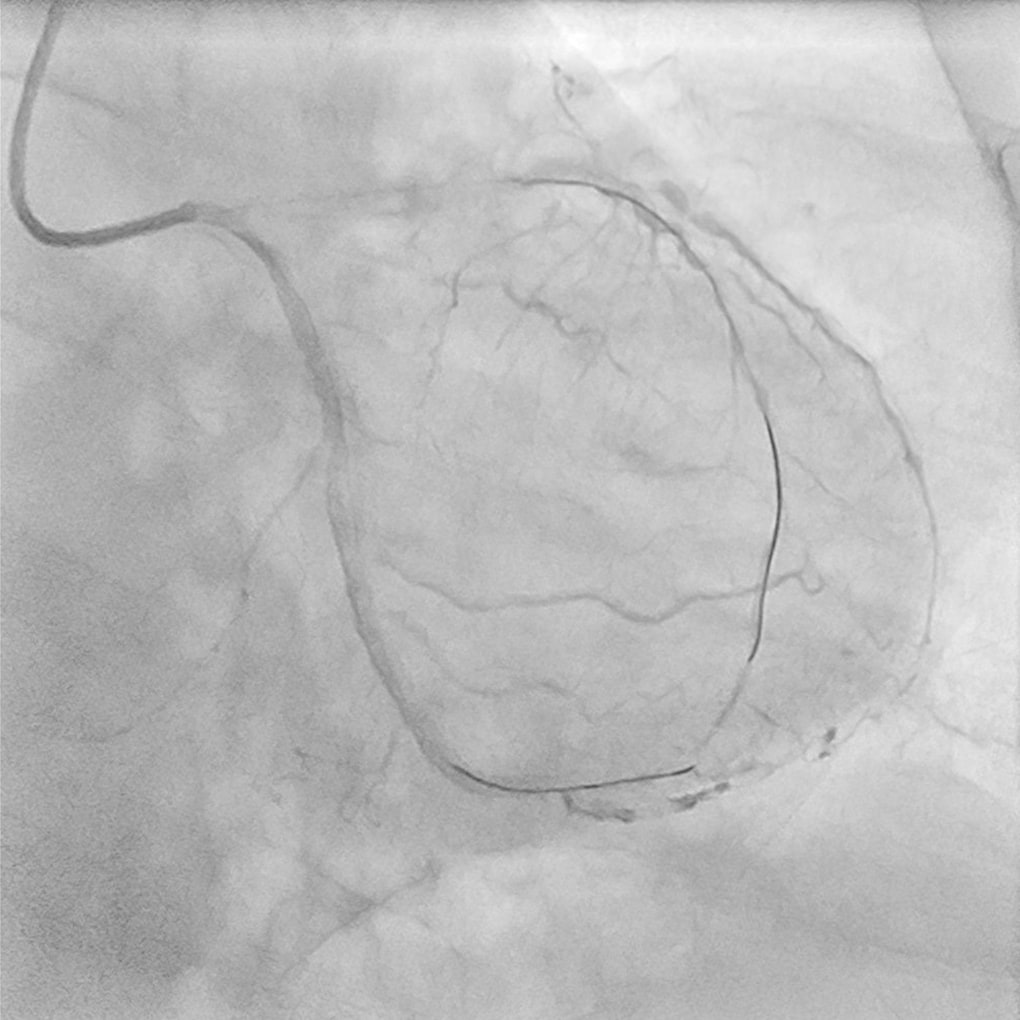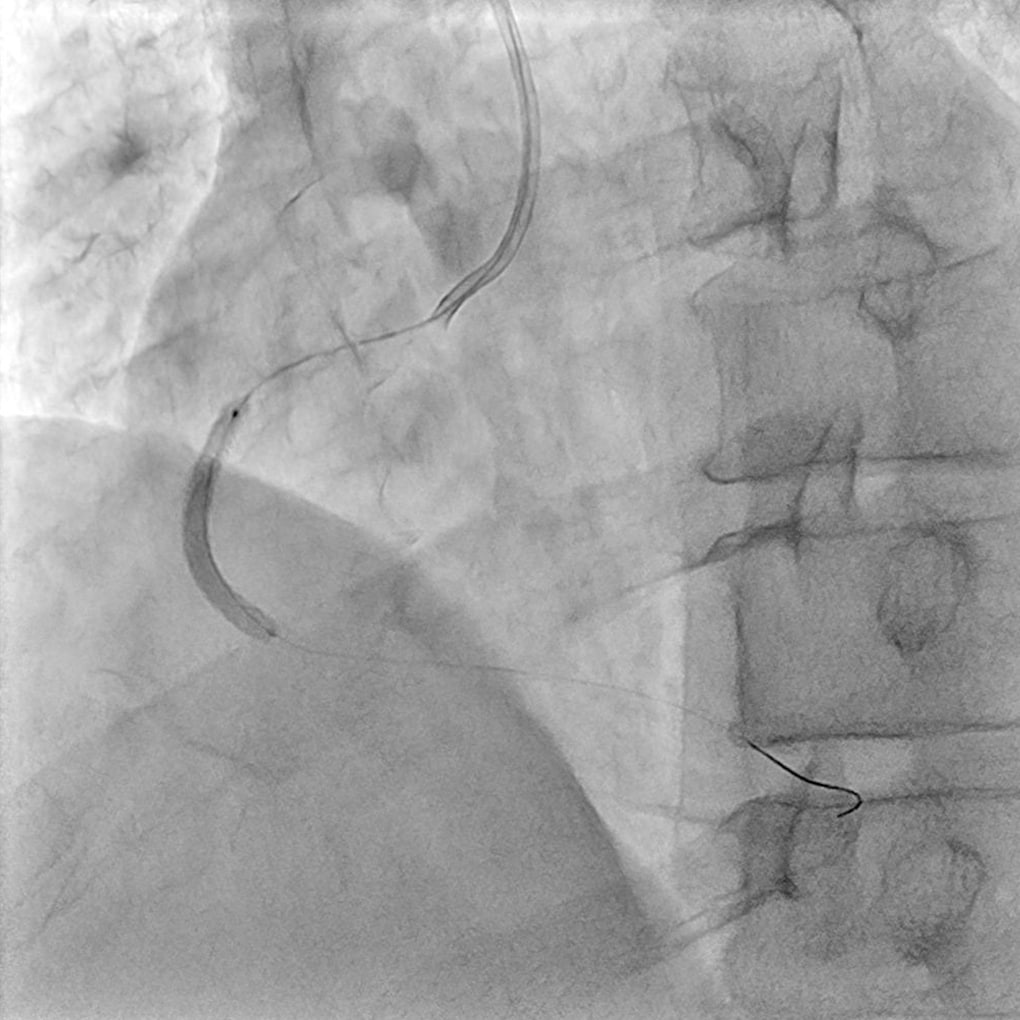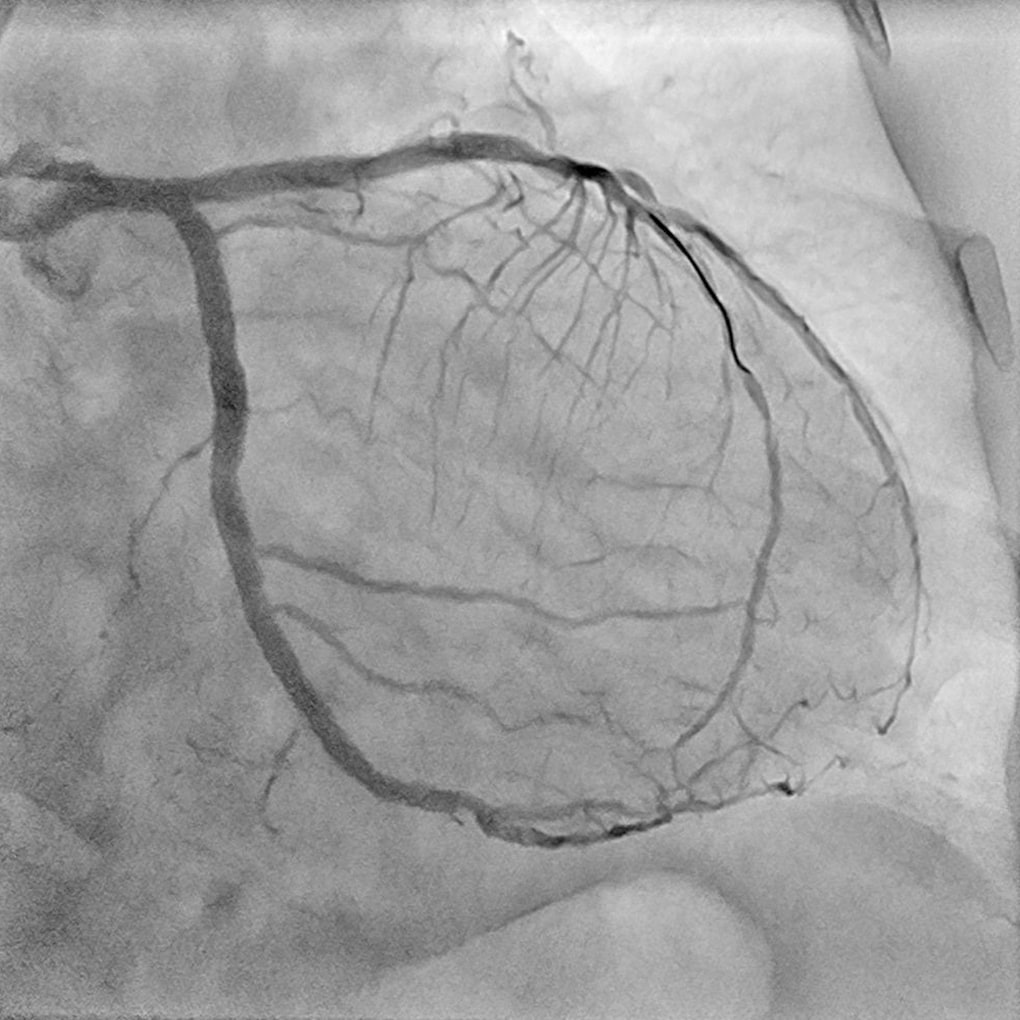 Q3 What Trinias application functions are especially appealing to you?
A3

I personally think Trinias is a very good system. First, I like its high image quality. Secondly, its radiation dose is low. Thirdly, it offers unique functions, such as the SCORE StentView stent enhancement technology. It is well known that when placing a stent, it is necessary to present the proximal and distal ends of the stent very precisely in order to confirm positioning. Sometimes they cannot be presented well in normal fluoroscopy mode. In such cases, stent position can be seen very clearly using SCORE StentView. After stent implantation, it is also critical to confirm whether the stent is fully open, which will determine its effectiveness. Sometimes at first glance during angiography, it looks good due to serious calcification, while in fact, the stent may not be fully open. SCORE StentView helps to ensure a good auxiliary effect, which also improves a patient's prognosis.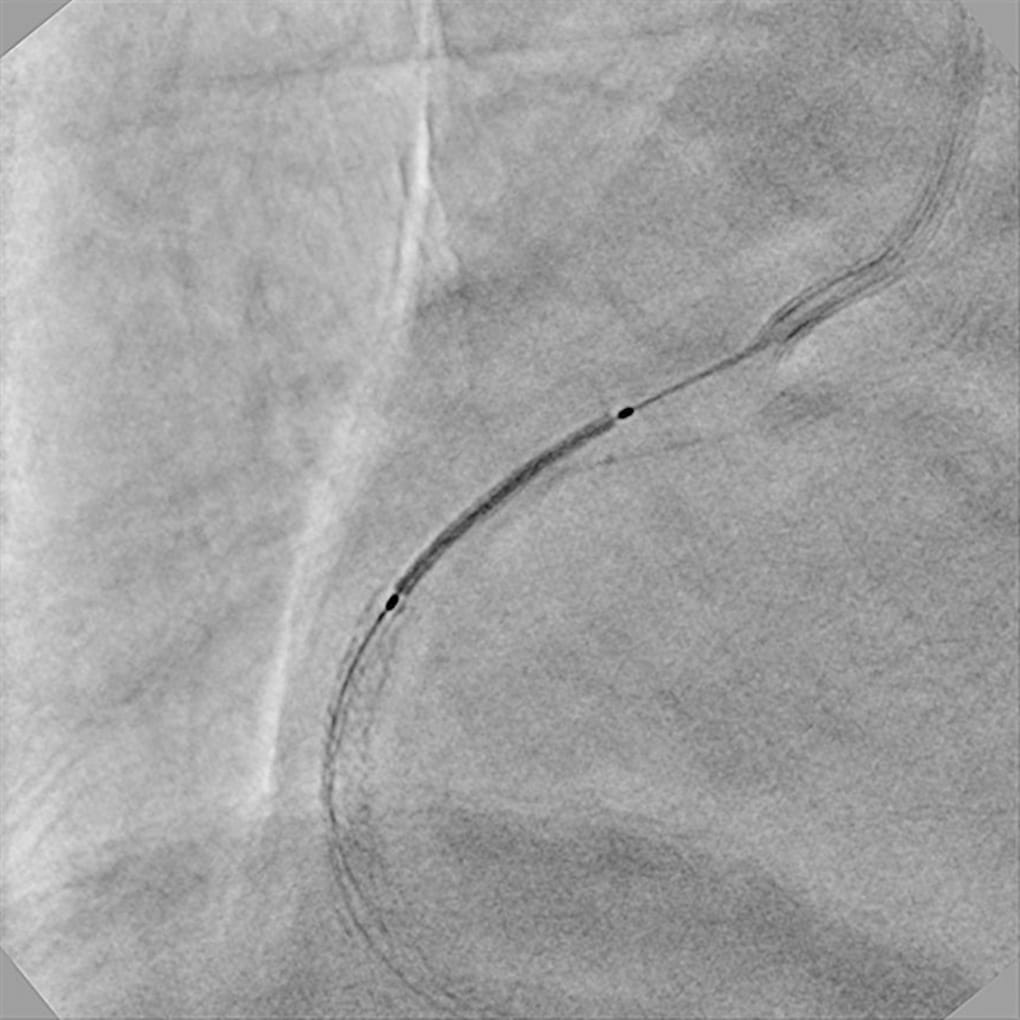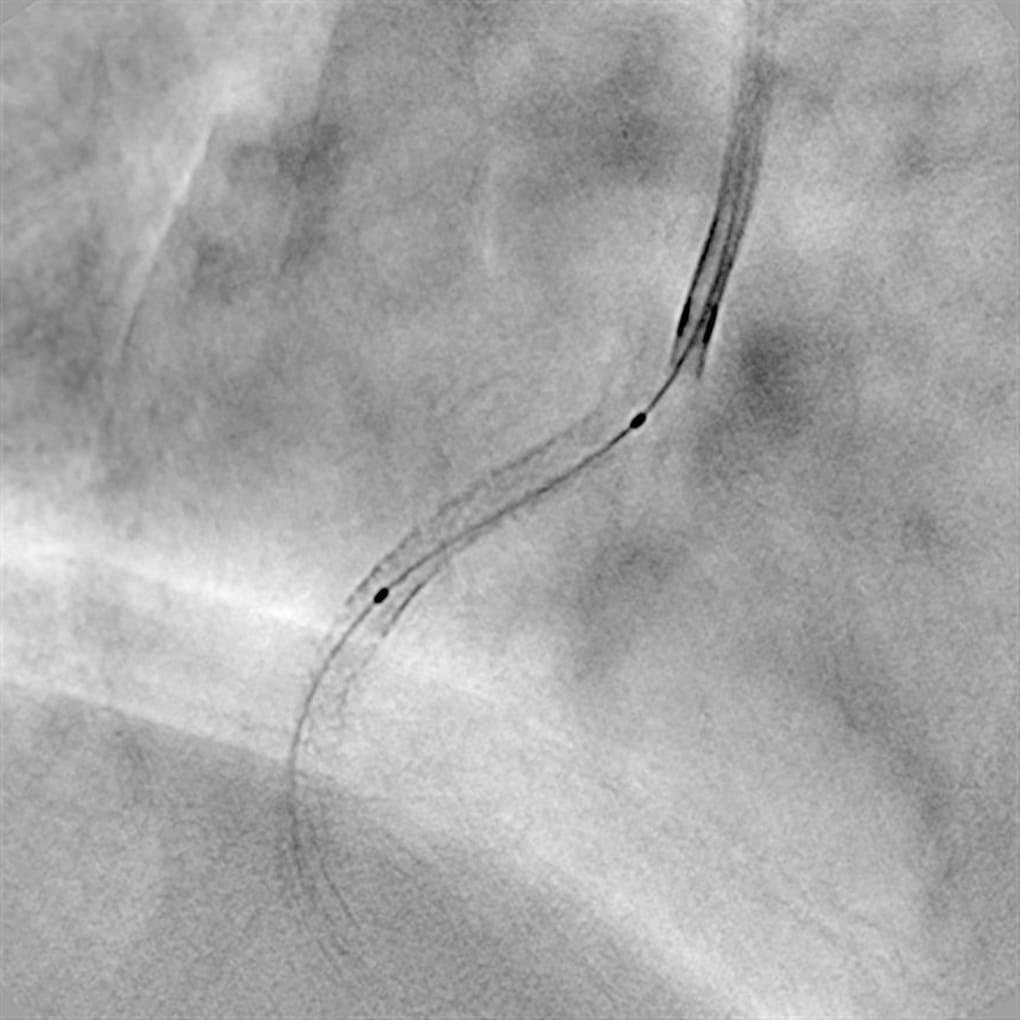 Q4 Shimadzu is a Japanese company and Japan is a pioneer in PCI procedures with a wealth of experience. What do you think you can learn from them?
A4

Zhongshan Hospital has been actively engaged in close academic exchanges with Japan in recent years. We have found that Japanese experts strive for excellence in PCI procedures and pursue "perfection" when making products. Some doctors in China think that everything will be fine after placing a stent, and scarcely give a thought to what happens next. But, some of our Japanese peers take a lot more care in interventional procedures, and I think that young doctors in our country need to learn this spirit of excellence as they mature. In this regard, it is very important to have academic exchanges. I recently organized a CTO basic training course in cooperation with Dr. Toshiya Muramatsu and the TMT in Japan. We hope that through this program younger generations of doctors can be inspired to strive for excellence in PCI procedures. During the training course, Dr. Muramatsu and I myself also gave a demonstration of the procedure, explaining everything from techniques to our personal thoughts, and even providing image analysis. As previously mentioned, Shimadzu's Trinias SCORE StentView can provide dynamic images of stents in real time. I personally think that this auxiliary function will be of great assistance to our doctors in precisely positioning stents as it allows you to make judgments about the lesion and the position of the stent in real time. The most important point is that sometimes the stent appears at first glance to be open, but the effect of calcification on expansion and whether or not there will be adequate adherence are unknown. Using SCORE StentView, we can observe whether a stent is fully expanded. In other words, SCORE StentView can help us perfectly position a stent in real time, which helps to ensure optimum results.
Q5 Finally, as a senior doctor, do you have a few words for younger doctors?
A5

With the development of the interventional procedure, the number of PCI cases in China has climbed from 5,000 in 1998 to 925,600 in 2018, and I believe that the number will undoubtedly exceed 1 million in 2019, surpassing even the number of cases in the United States. In order to cope with this increase in patients, we need more and more young doctors to master the PCI procedure technique. With the improvement of devices and technique, we now recommend interventional procedures in some good county hospitals and not just in Grade 3 Class hospitals in big cities. These doctors need solid basic skills, and a strong desire to learn about new techniques and devices.
I think that in the past few years, our neighbor, Japan, has done a very good job of passing the baton to the next generation. From the old Big Four in Japan: Professor Takahiko Suzuki, Professor Osamu Kato, Professor Kazuaki Mitsudo, and the late Professor Hideo Tamai, to Professor Etsuo Tsuchikane, Professor Masahiko Ochiai, Professor Toshiya Muramatsu, Professor Yasushi Asakura, and Professor Masahisa Yamane, etc., all of whom actively promote academic exchanges. Doctors in China and Japan have established very good relations, learning and sharing skills with each other.
So, what I want to say to young people is: First, you must have a good command of the basics of interventional procedure. Second, you must try to treat cases that are thought to be complicated and difficult and provide better treatment for patients. There are too many patients in our country, so we need more young doctors to master higher-level techniques, especially the CTO technique. Of course, medical development is inseparable from the continuous updating and development of equipment and consumables, which is why I highly recommend Shimadzu and their Trinias angiography system, which they are constantly working to enhance.