RSNA2013 Shimadzu Booth Report
Dec 20, 2013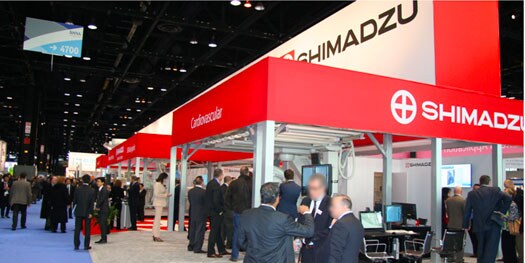 RSNA 2013 Shimadzu Booth
On 1st of Dec., 2013, the biggest international event in the year, RSNA show was opened. SHIMADZU exhibited many new products with our booth theme "Experience SHIMADZU", and welcomed a lot of visitors to Experience our new products and cutting edge technology of high quality imaging, workflow improvements, dose-reduction and new applications to expand the possibility of X-ray imaging. Here, we would like to thank all the guests who kindly visited our booth.
RSNA2013 Highlights
SONIALVISION attracted many worldwide visitors as an "All-in-One" premium Universal RF table by the high quality images for a wide range of examinations for routine fluoro studies, Orthopedics, Urogenital, Pediatrics, Bariatric and DSA, with its excellent table design as well. "G4" is polished with further dose care (new collimation features, removable grid etc.), better Urogenital study supports (Uro-tracking tilting etc.) and new digital imaging unit keeping our advanced applications of SLOT Radiography, RSM-DSA etc. SONIALVION G4 will be a new standard of UNIVERSAL X-ray imaging system.

We exhibited Trinias C12 with 12" FPD. This is a "Crossover system" optimal for supporting all peripheral, neuro, and cardiac angiography and interventions. It is also featuring our advanced applications, such as SCORE 3D (3D Angiography), SCORE CT (CT-like imaging), SCORE StentView(PCI support) etc., with a 56" large LCD display at booth.

MobileDaRt Evolution
Many visitors came to Experience "Variety of Choices" of our mobile line-up. With our MobileDaRt Evolution's excellent X-ray unit basis, we proposed multiple choices of FPD for each customer's purpose, the most common 17x14 size, the largest 17x17 good for ER, small FPD for pediatric NICU, or dual FPD solutions. Also in 2013, MobileDaRt Evolution exceeded 2,000 worldwide users and was awarded as No.1 "Category Leader" by an independent evaluation organization, KLAS.

The General Radiography System is the most basic, therefore the most important X-ray system. We featured "Auto-positioning" and "Speed-stitch" to obtain a long view image by a very simple & quick automatic workflow.
Cutting Edge Technology
We showed our various latest Technology of Imaging, Dose Reduction and management applied to various modalities of ours under our "SMILE*" concept. Also, our further Tomosynthesis research report by our R&D colleague was accepted by RSNA and presented there.
*SMILE : Shimadzu Makes Innovation in Life for Everyone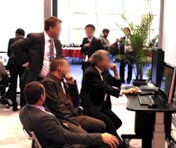 As above, our RSNA 2013 was very busy with a lot of guests to Experience SHIMADZU. Thank you very much again for your visiting us and seeing our latest products and technologies. We sincerely look forward to meeting you again in the next year RSNA 2014 !

Archive