RSNA2015 Radiology Exhibition Report from Chicago
Dec 15, 2015

RSNA 2015 (Radiological Society of North America)
On 29th of Nov., 2015, the biggest annual international radiology event, RSNA show was opened. This year 2015 is the 140th anniversary year for Shimadzu and the 101st for RSNA. SHIMADZU exhibited many new products with our theme "Passion for Details - Discovering new clinical values in X-ray imaging", and welcomed a lot of visitors from all over the world who enjoyed our "Passion" and "Innovations" in our new products, application technology, high quality imaging, workflow improvements and dose-reduction ability. Also this time, we not only showed not only medical imaging products for diagnosis or treatments, but also touched our broad healthcare contributions by our analytical technology and measuring instruments to support the prevention or early detection of diseases.
Here, we would like to thank all of the guests who kindly visited our booth and introduce its highlights of this year as follows.

RSNA2015 Highlights
This "All-in-One" multi-purpose RF system supports a wide range of examinations from routine fluoroscopic studies to DR/Orthopedic, Urologic, Geriatric, Pediatric, Bariatric, HSG and DSA studies etc. Its advanced features such as Tomosynthesis and Slot Advance(Long imaging) attracted many visitors at RSNA as well. The SONIALVISION G4 will be a new standard of "Universal R+F" imaging system that increase the "Productivity" of RF room to the hospitals who have just a "conventional" RF system for routine RF studies only.

Trinias C12 MiX package
We exhibited this "Crossover system" to support both cardiac and peripheral interventions with our outstanding image quality realized by "SCORE PRO Advance".
The system capability will be expanded further by our latest applications, such as SCORE StentView+Plus(Real-time stent visibility enhancement) or SCORE Navi+Plus that can help to reduce contrast media and X-ray dose by synchronizing the C-arm projections to pre-procedure MDCT images and using these MDCT images a reference during interventions.

MobileDaRt Evolution EFX
Since our world's first mobile DR system(the first "MobileDaRt") in 2005, we have been providing the most advanced and user-friendly mobile DR solution for worldwide users. In this 2015 which is the 10th anniversary of MobileDaRt-series, it is our great honor that our latest MobileDaRt Evolution EFX and our DR systems(RADspeed-series) are awarded as its top rating(Best in KLAS) digital X-ray system by a major healthcare research organization, KLAS.
The latest "EFX version" with our further evolutions will expand the clinical utility to pediatric NICU or Emergency etc. by widening the various FPD choices to be connected. Our MobileDaRt-series will always drive you forward.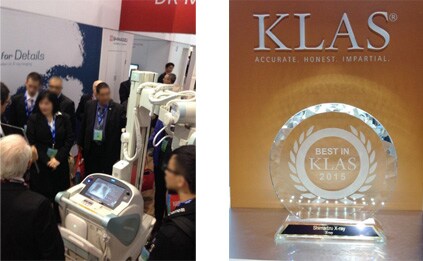 The "Edge package" is a new family of our General Radiography RADspeed system which has been loved all over the world, equipped with the expandability of our latest applications such as Tomosynthesis, SpeedStitch and Dual Energy Subtraction. We also proposed our concept of "DR Neutral", which enables you to select the most optimal DR / FPD to each different customer's requirements broadly. * FDA/510k pending

As above, our RSNA 2015 was very busy with a lot of guests to feel our "Innovations" and "Passion". Thank you very much again for your visiting us and we sincerely look forward to meeting you again in the next year RSNA 2016!

Archive