Optional Application - SUREengine
Realtime Multi Frequency Processing
Featuring direct-conversion flat panel detectors, the safire series continues to offer the highest image quality angiography systems available. Born from an uncompromising desire for greater image quality, SUREengine is our real-time image processing engine.
SUREengine improves the visibility of stents, other devices and blood vessels while maintaining the high-speed real-time characteristics of fluoroscopy and digital cine radiography.
Unlike conventional contrast enhancement that emphasizes only specific frequency bands, SUREengine's well-balanced enhancement crosses all freqeuncy bands. This allows complete visualization of high frequency objects such as fine blood vessels, stents, and guide wires, using a natural level of enhancement.

In addition to optimizing subject density, SUREengine produces a well-homogenized background by controlling regions turned white by halation or darkened by overlapping organs.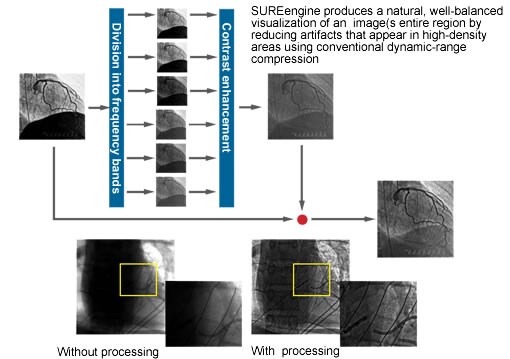 Realtime Flexible Noise Reduction
Acquired images are separated into different frequency bands and, at each band, the required image signal and its noise component are identified. The subsequent noise component is then suppressed allowing dosage-based control that enables continuous real-time delivery of optimized images.
Even with fluoroscopy, where noise tends to increase at lower doses, clear moving images can be observed, without having the response reduced.