Optional Application - 3D-Angio
safire 3D VIEW
High-Definition 3D Images Via Direct-Conversion Flat Panel Detector
Thanks to rotational DA/DSA image data from a direct-conversion FPD that boasts world-leading resolution and no spatial distortion, reconstructed 3D images clearly represent even the finest blood vessels. Moreover, this FPD provides a high-speed image-acquisition rate of 30 fps, a high-definition 1024 x 1024 matrix and 12-bit high-density resolution.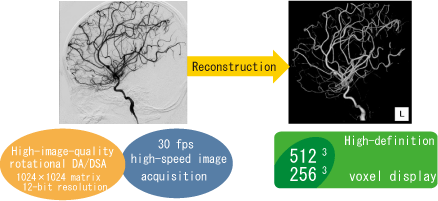 MaxScan 60°/s High-Speed Rotation Reduces Patient Burden
MaxScan achieves the world's fastest C-arm rotational speed of 60°/s to rapidly cover a wide area, reducing both injection time and amount of contrast medium to help minimize patient burden.
FAST
Rapid Positioning Via 3D Automatic Projection
Automatic projection at a constant angle to the displayed 3D image ensures rapid fluoroscopy positioning from the optimal angle, and improves intervention efficiency.
Rapid, Automatic Display of 3D Volumetric Images
This intervention-focused system ensures the rapid display of 3D images. 3D volumetric images are automatically displayed on the workstation monitor in a minimum of just 50 seconds after rotational radiography is complete.

3D FUNCTIONS
Diverse 3D Display Functions for Image Observation
Diverse 3D display functions allow observations of specific areas using a variety of methods, such as a C-arm just-turn function and volumetric rendering functions that include volume and distance measurements.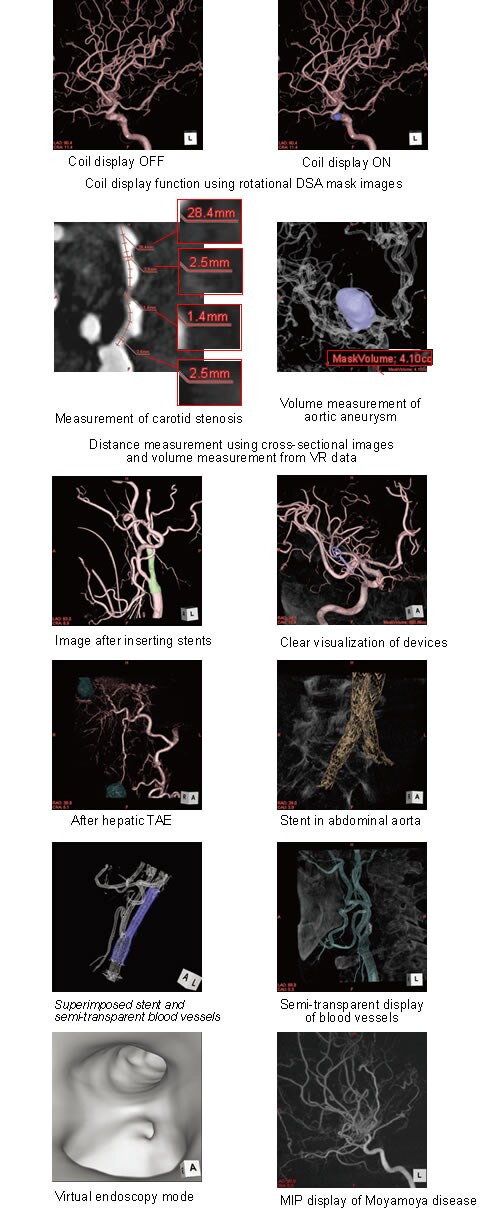 SUMMARY of FUNCTIONS
Image Display Functions
| | |
| --- | --- |
| Image display | VR, MIP, VE, MPR, CPR |
| Image manipulation | Zoom-in, zoom-out, rotation, inversion, cine playback, W/L adjustments, panning, and others |
| Templates | Store volume information, background color, image positional information, and volume addition status |
| Mask functions | Leave selected areas, spheres, and polygons; cut along a plane, straight line, or free line; Undo/Redo; inversion |
| Angle interlock | Display 3D angles and transfer image angle information to C-arm |
| Measurement | Distance measurement, angle measurement, volume measurement, profiles, and others |
| Annotations | Text, arrows, rectangles, ellipses |
Data Output/Management Functions
| | |
| --- | --- |
| Image storage | DVD-RAM, DICOM Print, DICOM storage* |
| Printing | DICOM Print, color printer |
| Image export | DICOM, BMP, JPG, and AVI image creation |