Recycling of Resources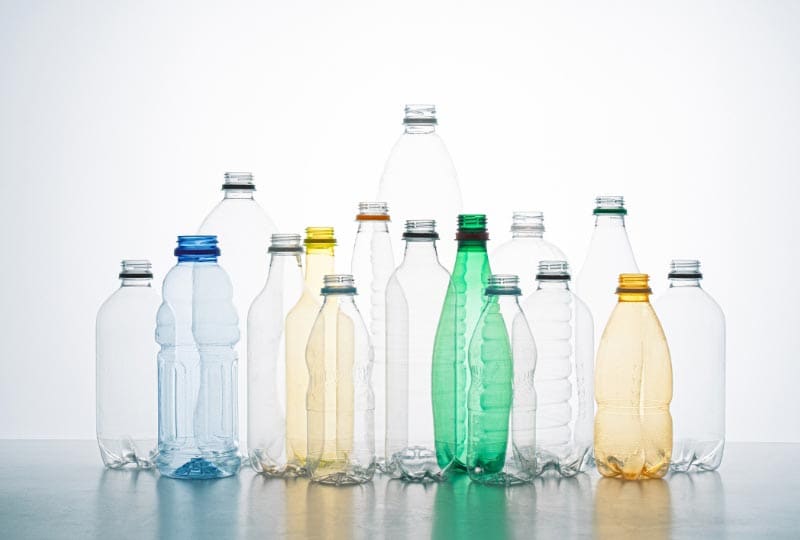 Promoting the Use of Plant-Derived and Recycled Plastics as Key Elements in a Recycling-Oriented Society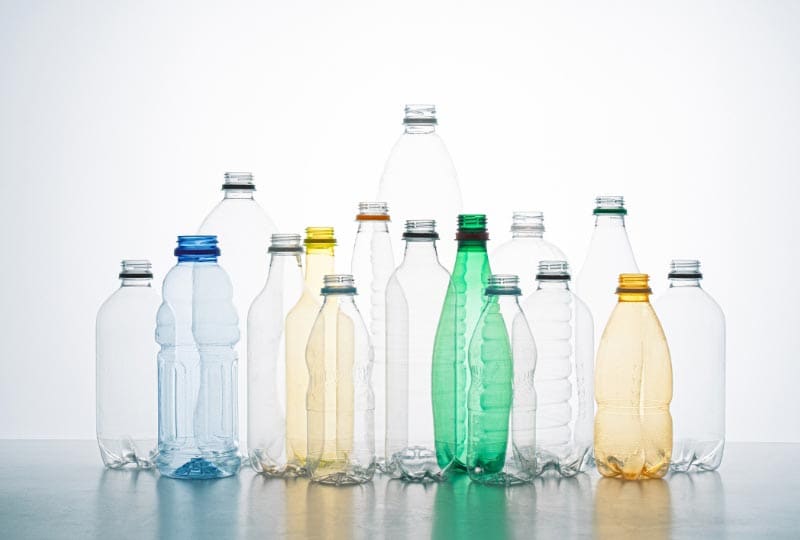 Bioplastics
Bioplastics is a generic term for biomass plastics (plastics made from plants and other renewable organic resources) and biodegradable plastics (plastics that are decomposed by the action of microorganisms). Production capacity is predicted to triple in the five years from 2021 to 2026. Efforts are therefore underway to promote the widespread use of bioplastics as a sustainable material.
Web Content
Polylactic acid (PLA) plastic is a plant-derived bioplastic that is biodegradable. Therefore, this material is expected to have a reduced environmental impact.
This is an example of analyzing the total lactic acid content in a synthetic plastic container as determined by dissolution testing. The reliable analysis process enables it to be used for determining the compliance/non-compliance of PLA containers.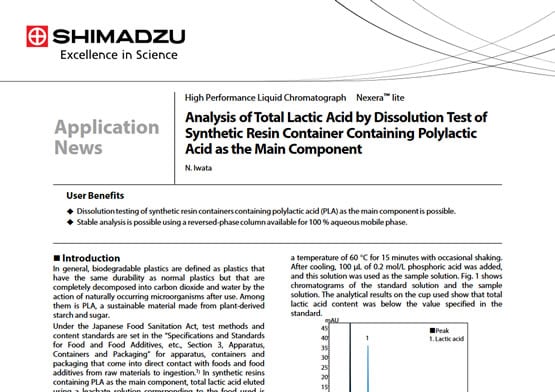 Click here for other applications.
Recycled Plastics
Plastic recycling can be generally classified as "material recycling," which uses waste plastics as raw materials, "chemical recycling," which reuses waste plastics as raw materials using chemical processing, or "thermal recycling," which involves either gasification of waste plastics and production of refuse-derived fuel (such as oil), or using the incineration of waste plastics to generate electricity or for other purposes.
Globally, only 9 % of all plastics are reused as a material. However, due to regulations on the proportion of recycled plastic in plastic products, enactment of a plastics tax in Europe, and other measures, the use of recycled plastics is expected to increase further in the future.
Web Content
For proper recycling, it is important to understand the material properties of plastics. A wide variety of analytical instruments are used to analyze plastics, but Fourier transform infrared (FTIR) spectrophotometers are especially widely used because plastics can be analyzed easily without complex pretreatment steps, such as dissolving the plastic in a solvent.
This article introduces a screening analysis method using a Fourier transform infrared spectrophotometer (FTIR).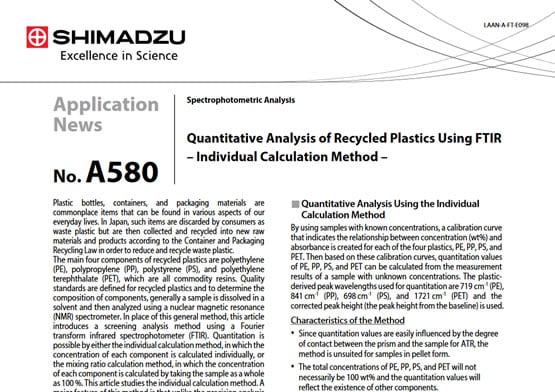 Click here for other applications.