March 29, 2017

| News & Notices
Shimadzu China Mass Spectrometry Center Received an iF DESIGN AWARD 2017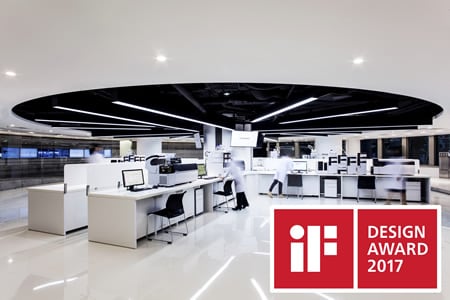 The Shimadzu China Mass Spectrometry Center (China MS Center), which is a research and development facility of Shimadzu (China) Co., Ltd., a subsidiary of Shimadzu Corporation in China, received an iF DESIGN AWARD 2017.

The iF DESIGN AWARD was started by iF International Forum Design GmbH Hannover located in Germany in 1953 to give awards to excellent industrial designs all over the world. It is known as an internationally prestigious design award. For the iF DESIGN AWARD 2017, there were applications for 5575 items from 59 countries. The awards ceremony was held in Munich, Germany on March 10.

Shimadzu has received this award for the Shimadzu MECTEM, a Shimadzu Group company, VESTA vacuum and pressurized sintering furnace in 2012 and for the Shimadzu PDA-5000 optical emission spectrometer in 2015. However, this is the first time that Shimadzu has received an award for an item other than products.
Shimadzu China Mass Spectrometry Center
The China MS Center was established in the Beijing branch of Shimadzu (China) Co., Ltd. in October 2015 as a research and development facility to increase the market share of mass spectrometers and promote joint research and joint development projects in the local area.

This China MS Center was designed with the concept of a dual-function environment that is both an application development laboratory and an MS product showroom at the same time. Laboratory tables are installed in a cross shape in a round space with the minimum exposure of piping so that the area appears like Shimadzu's emblem when looked at with a birds' eye view. A height difference is deliberately used at the entrance so that customers can have a sweeping view of the laboratory.

Mass spectrometers are main products of Shimadzu's analytical and measuring instruments business. They are one of the product lines that leads Shimadzu's brand image in China and demands for them are increasing in the food safety, environment, and life science fields. Through the activities at the China MS Center, Shimadzu is thriving to provide solutions that satisfy local needs and establish close cooperative relationships with customers.

-Location:
6F, China Life Tower, No. 16 Chao yang men wai Street, Chaoyang District, Beijing 100020 P.R. China

-Floor space:
1,009 m2

-Main systems installed:
Triple quadrupole liquid chromatograph mass spectrometers
Triple quadrupole gas chromatograph mass spectrometers
Supercritical fluid extraction/supercritical fluid chromatograph systems
Imaging mass microscopes and other systems