September 5, 2017

| News & Notices
Shimadzu's New Trace Moisture Analysis GC Enables Precise Analysis of PPM Levels of Water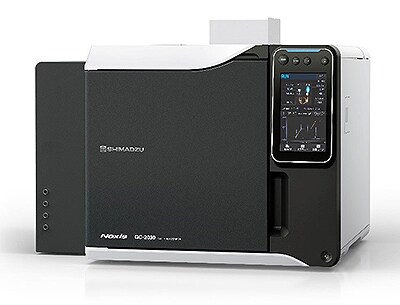 Kyoto, Japan, September 5th, 2017 – Shimadzu Corporation, a leading manufacturer of analytical and medical instruments, announces the release of a trace moisture analysis system utilizing a gas chromatography method. Developed in close collaboration with Dr. Daniel W. Armstrong*1, Robert A. Welch Distinguished Professor at the University of Texas at Arlington (UTA), and MilliporeSigma, the life science business of Merck KGaA, Darmstadt, Germany, this system consists of Shimadzu's Nexis GC-2030 equipped with its proprietary Barrier Ionization Discharge detector (BID-2030) and MilliporeSigma's unique Watercol*2 capillary column, which was originally developed by Dr. Armstrong. With this system, users can precisely analyze PPM levels of water in gas and some liquid samples.

The use of GC-based high-precision trace moisture analysis is expected to increase in markets such as chemical, petrochemical, pharmaceutical and energy. For example, this system has been used for the analysis of a small amount of water in liquid petroleum gas (LPG). In this instance, the system is not adversely affected by the petroleum matrix, thereby enabling measurements at a sub-PPM level of water detection. This method is currently being evaluated by American Society for Testing and Materials (ASTM) committee members as a candidate for an official ASTM test method.

This system was developed at Shimadzu's U.S. Innovation Center located at Shimadzu Scientific Instruments, Inc., a wholly-owned subsidiary based in Columbia, MD. Established in July 2015, the U.S. Innovation Center is the first of numerous centers Shimadzu has opened in strategic areas around the world. Shimadzu intends to utilize these Innovation Centers to expand collaborations worldwide and develop innovative products that meet specific application requirements.

Shimadzu will exhibit the Nexis GC-2030 Trace Moisture Analysis GC at the Japan Analytical and Scientific Instruments Show (JASIS) 2017 (September 6-8, at Makuhari Messe, Japan).


| | |
| --- | --- |
| *1: | Dr. Daniel W. Armstrong is a globally recognized analytical scientist. |
| *2: | Watercol Series Capillary GC Columns are among innovative Ionic Liquid GC columns invented by Dr. Daniel W. Armstrong and manufactured by MilliporeSigma. |


For more details, visit
Trace Moisture Analysis GC System