September 21, 2017

| News & Notices
Shimadzu's New DPiMS-2020 Probe Electrospray Ionization Mass Spectrometer Offers Quick Measurement Without Pretreatment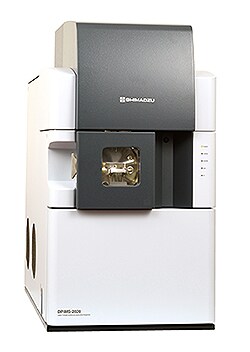 Shimadzu Corporation has released the DPiMS-2020 probe electrospray ionization mass spectrometer, which can perform mass spectrometry quickly without complicated pretreatment.

Usually, a solvent, column, and other materials need to be prepared and an approximate concentration of the sample needs to be checked before performing analysis using a mass spectrometer. There has always been a demand for a simplified measurement procedure. The DPiMS-2020 uses "Probe Electro Spray Ionization (PESI)" for the sample ionization method. This method requires only adding a small amount of a chemical product, food ingredient, or biological sample on a plate to complete preparation. Then, simply select the probe control and mass spectrometric conditions on the window of the dedicated software, PESI MS Solution, and click the button to start measurement. Measurement results can be acquired in approximately two minutes.

This quick, simplified measurement can be used in the following applications.
- Evaluation of chemical products, such as shampoos and mouthwash, in which multiple surfactants are combined.
- Tracking chronological change of a chemical reaction in sampling after a reagent is mixed
- Measurement of the existence of a toxic agent (e.g. cyanide) in blood.

The ionization using PESI is a new analytical technique that has the potential to be used for various applications beyond those listed above. Shimadzu will work with customers to search for new applications. We plan to expand our mass spectrometry product line to include instruments that can perform measurements quickly without pretreatment by directly ionizing the samples without using a liquid chromatograph (LC) or a gas chromatograph (GC).

- We developed the DPiMS-2020 by using the technology of the system to assist fast diagnosis of pathologies developed with Professor Sen Takeda of the Faculty of Medicine, the University of Yamanashi and his group members in a Japan Science and Technology Agency (JST) program for the development of advanced measurement and analysis systems. PESI was developed by Professor Kenzo Hiraoka of the University of Yamanashi in 2007.
Features
1. Mass Spectrometric Measurement Can Be Performed Immediately with Simple Sample Pretreatment.
A micro amount of liquid of 10 pl or less is taken from the sample, placed on a sample plate using a probe with a 5 µm diameter, and measurement is performed automatically.
2. Synthesis Reactions and the Degradation Status of Substances, due to Oxidation or Other Factors, Can Be Monitored.
The sample status is not changed because heating is not required. Because only a small amount of the sample is taken, chronological changes on the plate can be checked.
3. Highly Resistant to Contamination Because an Extremely Small Amount Is Required for Ionization.
There is a low chance of contamination because a high-concentration sample rarely enters the mass spectrometer. For this reason, the concentration does not need to be adjusted in advance, providing simple and quick measurement.

For more details, visit
DPiMS-2020