September 27, 2017

| News & Notices
Shimadzu's New Nexera FV Ultra High Performance Liquid Chromatograph Dramatically Reduces the Time Spent Conducting Dissolution Tests for the Development and Quality Control of Pharmaceuticals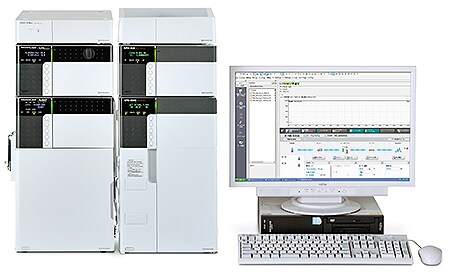 Shimadzu Corporation has released the Nexera FV ultra high performance liquid chromatograph to improve the operational efficiency of tests to evaluate the dissolution of contained components in the development and quality control of pharmaceutical dosage forms (e.g. tablets and capsules). When Nexera FV is directly connected to a dissolution tester, after putting tablets in the dissolution tester at the start of a test, analysis of contained components, calculation of dissolution rate, and output of test result reports can be automated, reducing an operator's work time to just 1/40 of the conventional procedure time.
Background to the Development
Evaluation of the dissolution of drug products is important in the development and quality control of pharmaceuticals. Especially for generic pharmaceuticals, a dissolution test must be performed to validate their bioequivalence and whether it has been changed by the content and dosage form. Ultraviolet spectrophotometers are mainly used to measure the dissolution amount. However, a high-performance liquid chromatograph (LC) is used when the component concentration in drug products is low, components are easily hydrolyzed, or combination drugs (tablets containing multiple components) are being examined.

An issue with dissolution tests using LC is complicated operation. When using a system in which the eluate is not automatically delivered from the dissolution tester to the LC unit, the operator needs to stay with the tester for a long time because they need to transfer the eluate (sampling). In contrast, the Nexera FV does not require manual sampling because the eluate can be automatically delivered to the LC unit for direct analysis. Using the Nexera ultra high performance analysis LC system as the LC unit enables ultrafast analysis of the eluate.
Features
1. Simultaneously Provides Significant Labor Savings and Faster Analysis Speeds in Dissolution Testing
Using the Nexera FV's function to automatically deliver the eluate to the LC unit allows continuously running a system automatically at night and performing dissolution tests repeatedly. The Nexera FV reduces the time that an operator needs to spend on a test to 1/40* of the time needed for conventional dissolution testing by manual sampling. Each eluate can be analyzed in a short time by using a UHPLC system that enables ultra-high-speed analysis. Up to eight flow vials can be used to enable automatic sampling of the eluate with up to 12 flow vials available as an option. The flow path of each flow vial is connected to each vessel of the dissolution tester.
*A single dissolution test using conventional manual sampling takes approximately 2 hours (including preparation for testing, sampling, and data analysis), whereas the test takes only 3 minutes using the Nexera FV.
2. Analysis Modes Can Be Selected Based on Applicability to Drug Product
Two analysis modes are available to handle various types of dosage forms.

- Fraction analysis mode
This mode can be used for sampling at a minimum of 5-minute intervals in dissolution tests for immediately-soluble tablets (drug products that dissolve fast).
The eluates are sampled into fractioned vials and then analyzed at one time after sampling.

- Direct analysis mode
This mode is suitable for sustained release drug products (tablets to maintain the concentration of effective components in blood at a certain level for a long time by releasing components slowly). Use this mode when the sampling interval is 30 to 60 minutes or longer. The UHPLC system analyzes the eluates between sampling at an ultra-high speed, significantly shortening the time required for testing.
3. Dedicated Software Reduces Operator Workload Before Starting a Test
Using DT Solution software, users can easily configure test condition settings for each drug product. After a test finishes, analysis results, including dissolution curve and dissolution rate, are automatically output in a report.

For more details, visit
Nexera FV