October 3, 2017

| News & Notices Improved Fluoroscopy Image Processing Technology and Network Functionality
Release of Two Models of the FLEXAVISION eXceed Edition R/F Systems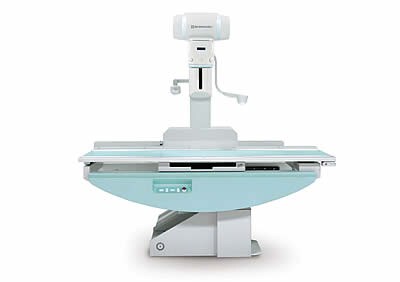 Shimadzu has released HB and FD packages of the FLEXAVISION eXceed edition R/F systems. These two new models feature new fluoroscopy image processing technology for acquiring clearer images and improved network functionality for more efficient system wide operation.

These products include fluoroscopy image processing technology that efficiently reduces noise in response to patient movement detected for each pixel in the image, which is performed in real time at high speed by newly developed hardware. Consequently, the products can be used to obtain clear fluoroscopy images with minimal image lag caused by patient movement. Furthermore, functionality for automatically adjusting the image contrast in X-ray signals has been optimized, so that fluoroscopy can be performed on up to 15% thicker areas using the same X-ray levels as previous models. Additionally, DICOM-compatible network functionality has been improved to enable more efficient system wide operation. (DICOM is an international standard for medical digital images and communication.)

Based on the given application or hospital operating methods, customers can choose either the HB package of the FLEXAVISION eXceed edition, featuting functionality for spot filming using a wireless FPD or CR/film cassettes, or the FD package, which supports a 14 x 17-inch size cassette tray.
FPD: Flat Panel Detector
CR: Computed Radiography
I.I.: Image Intensifier
Background to the Development
R/F systems are used for a wide variety of applications, for example, from screening examinations of the gastrointestinal tract, chest, and abdomen to specialized examinations of orthopedic regions or for rehabilitation.

Shimadzu FLEXAVISION series R/F systems are designed to offer flexibility in how they are used. Consequently, they are used in a large number of facilities throughout the world, from small clinics to major specialized hospitals. In addition to using Shimadzu's strength in image processing technology offering more accurate medical examinations, we are currently developing systems and instruments that can operate efficiently in a wide range of medical facilities, including clinics that are rapidly adopting various information technologies.
Features
1. Enables Acquisition of Clear Images with Minimal Image Lag
Due to real-time video image processing technology that can detect the movement of each pixel in fluoroscopy images and reduce the corresponding noise and newly developed hardware that can process large amounts of data very rapidly, the systems can acquire clear images with minimal image lag without compromising real-time operability. Furthermore, functionality for automatically adjusting the gain level (X-ray input/output signal amplification rate, which determines the image contrast during image conversion) has been optimized. Consequently, the new systems offer up to 15% higher coverage (maximum thickness that can be observed by fluoroscopy in patients) than previous models, without increasing the X-ray level. This makes it easier to observe thicker examination areas.
2. Improved Network Functionality for Supporting International DICOM Standard
Network functionality now includes improved support for DICOM, the international standard for medical digital images and communication. RDSR and MPPS functionality has been added sending information about patient exposure dose levels and exposure parameters used for each examination to a data management system. This added functionality offers improved operating efficiency by enabling the system to be operated totally via an in-hospital network, from obtaining patient information and setting exposure parameters to storing images after acquisition and managing exposure parameter reporting.
3. More User-Friendly User Interface
The software user interface has been improved based on the operability of Shimadzu's top-of-the-line R/F system, the SONIALVISION G4, so that the software can be operated more intuitively and is easier to understand, which allows the operator to be more focused on the examination and patient care.

For more details, visit
FLEXAVISION series