December 25, 2017

| News & Notices
Release of the More Advanced MobileDaRt Evolution Digital Mobile X-Ray System MX8 Version with Superior Drivability and Functionality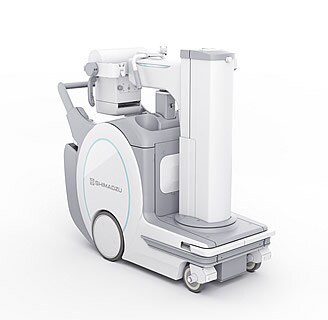 Shimadzu has released a new MobileDaRt Evolution MX8 version digital mobile X-ray system that features Shimadzu's first telescoping support column for even more convenient drivability and improved forward visibility, a large completely flat monitor screen, a lockable Flat Panel Detector (FPD) housing compartment, an extensive selection of options, and improved operability.

Digital mobile X-ray systems are used for hospital rounds or to examine patients in emergency rooms, neonatal intensive care units, or other highly urgent medical applications. Shimadzu MobileDaRt series digital mobile X-ray systems are currently used in over 60 countries around the world, with over 3,400 units sold to date.

The newly redesigned MobileDaRt Evolution MX8 version was developed to provide users with multifaceted support based on Shimadzu's extensive technology and track record cultivated thus far. A telescoping X-ray tube support column and other changes provide dramatically improved forward visibility during travel, while maintaining the outstanding drivability that has always been highly regarded by users. Furthermore, the design also helps improve the efficiency of hospital rounds, such as by offering a wireless hand switch and other new optional features, by improving the convenience of the monitor on the mobile unit, the area around the collimator, and FPD housing compartment, and by using higher X-ray focal point to make radiography easier for examining patients on high beds.

Shimadzu is currently promoting a concept referred to as "DR Neutral," which is based on offering a combination of digital radiography (DR), that is matched to the operations performed within the hospital, and Shimadzu radiography systems.
Features
1. Telescoping Support Column Ensures Enhanced Forward Visibility and Enables Even More Convenient Drivability
The new design features an X-ray tube support column that can be extended or retracted and a more compact system width. The previous model was 1,930 mm tall during travel, but the new design is only 1,270 mm tall and 560 mm wide, which is 20 mm narrower than the previous model. The shorter profile provided by the telescoping support column dramatically improves forward visibility during travel and the more compact size makes it easier to use the system in narrow spaces such as next to beds. Though drivability was already a strength of previous Shimadzu models, the new model is also designed to be even easier to drive.
2. Various Functionality and Options Help Improve Hospital Round Efficiency
In contrast to the 17-inch monitor size on previous models, the new product features a new completely flat 19-inch monitor that improves operability. The maximum X-ray focal point height is also increased by 15 mm, compared to the previous model, to 2,025 mm, which makes it easier to examine patients on higher beds. Security features are also considered, such as by adding a new locking function for the FPD housing compartment. New optional features, such as a wireless hand switch for X-ray exposure operations and a height-adjustable grip bar, help improve the efficiency of hospital rounds.
3. "DR Neutral" Enables Flexible System Configuration
The DR Neutral concept promoted by Shimadzu enables hospitals to choose DR system that are matched to the existing DR system within the hospital. It also supports the variety of FPD types, so that mobile X-ray systems can be used in an environment that is highly compatible with existing operations.

For more details, visit
MobileDaRt Evolution MX8