March 16, 2018

| News & Notices
Release of New LIGHTVISION Near-Infrared Fluorescence Imaging System for Visualizing Lymph and Blood Vessels to Support Treating Breast Cancer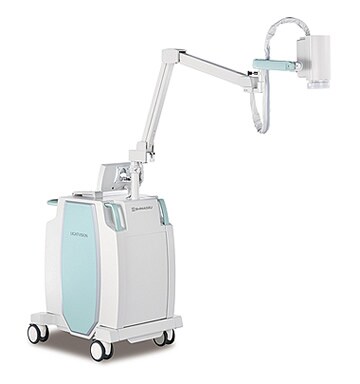 Shimadzu Corporation has entered the medical near-infrared camera market with the release of our new LIGHTVISION near-infrared fluorescence imaging system. The new LIGHTVISION is designed to support breast cancer treatment through the visualization of lymph vessels and blood vessels based on the detection of near-infrared fluorescent light emitted from indocyanine green (ICG).

Due to the increasing rate of breast cancer morbidity, Shimadzu has invested significant resources toward applying state-of-the-art science and technology supporting the diagnosis and treatment of breast cancer. The new LIGHTVISION system has been developed as part of this ongoing initiative.

The new LIGHTVISION system creates real time contrast images of lymph vessels below tissue surfaces by administering ICG through the lymph vessels, exposing the corresponding tissue to excitation light, and then detecting and visualizing the slight emission of near-infrared light from the ICG, which is invisible to the naked eye. By visualizing the lymph vessels during surgery, the surgeon can perform surgical procedures while monitoring the position of lymph vessels being excised, for example, on a monitor screen. This is especially useful for identifying the position of sentinel lymph nodes, which are important for diagnosing the metastasis status of cancer cells during breast cancer surgery.

Furthermore, by visualizing the ICG administered through blood veins, the blood flow can also be confirmed during surgery by performing intraoperative angiography. This is especially useful for evaluating blood flow through flaps and anastomotic vessels during breast reconstructive surgery.

Shimadzu's long-term goal is to provide comprehensive support for early diagnosis, examination, treatment and prognosis management of diseases.
Background to the Development
Due to the high morbidity rate of breast cancer, compared to other cancers in women, there is an urgent need for countermeasures. However, diagnosing the metastasis of cancer cells during breast cancer surgery requires identifying the position of sentinel lymph nodes with a diameter of only a few millimeters and then excising those nodes to diagnose their pathology. If the cancer has not metastasized to the sentinel lymph node, then axillary lymph node excision can be omitted to prevent lymphedema and help maintain the patient's quality of life after surgery. For this reason, surgeons want to accurately determine the position of lymph nodes and quickly proceed with surgery.

In recent years, there has been increasing interest in using fluorescence methods with ICG for such sentinel lymph node biopsies. Due to Shimadzu's many years of experience involved in optical control and biological tissue fluorescence imaging technologies, it was thought that Shimadzu could apply those technologies for breast cancer surgery and other clinical fields by using them for medical diagnostic imaging. This resulted in the development of the LIGHTVISION near-infrared fluorescence imaging system.
Features
1. Achieves High Definition Image Quality
The LIGHTVISION is equipped with built-in high-definition sensors, producing high quality, real-time images on a single monitor, for surgeons to proceed with surgery. It also supports image acquisition in a bright field of view, without needing to switch OFF room lighting in the operating room.
2. Supports Simultaneous Display of Three Images with Outstanding Visibility
The ability to display three images simultaneously means that a visible light image, a near-infrared fluorescence image and a combined visible light image with superimposed near-infrared fluorescence image can all be displayed simultaneously, in real-time, on the same monitor screen. This means that all three images can be assessed and compared with ease. To identify the position of lymph nodes, lymph vessels and blood vessels accurately in visible + near-infrared fluorescence images, areas of fluorescence can be displayed as either green or blue, providing clear visible separation from surrounding tissue.
3. Convenient Functionality and Operability Well-Suited to Use in Operating Rooms
The camera arm can be extended to a length of about 180 cm, providing optimal positioning during procedures, while the main unit is easily controlled via a simple and detachable control console. Excellent image quality is assured via automatic focusing, automatic light exposure adjustment and automatic white balance adjustment, while the images can be zoomed to a magnification of up to 10 times.
For more details, visit
Near-Infrared Fluorescence Imaging System - LIGHTVISION