We are not provided this laser yet. We will update the states.

Outline
Features
Blue direct diode laser 450 nm
High brightness
Fiber core diameter: 100 µm
High power 100 W
The ideal laser light source for yellow metals processing.
Applications
Suitable for 3D printing, coating, soldering, etc.
The blue wavelength and high brightness of BLUE IMPACT ™ make a revolution in laser processing world.
Major applications
3D printing
Coating/cladding
Annealing
Micro-welding
Cutting
Soldering/brazing
Marking
Phosphor excitation light source
Customize
For details, please contact our company.
Driver
Laser output (LD current) control function
Digital modulation (up to 10 kHz) supported
LD unit temperature monitoring function
Example of welding of copper sheets (30 µm, 3 sheets)

Microprocessing of copper, gold, and other metals by advantage of high absorption rate
The blue laser offers a higher absorption rate for most metals than the conventional fiber laser or CO2 laser. In particular, the blue laser enables high-quality, high-efficiency processing of gold and cooper, which are difficult to process using an infrared laser. Moreover, the hi-efficiency feature enables low power consumption operation.
Since the blue laser uses a quite small amount of laser energy for processing, it achieves high-quality processing with minimal thermal side effects.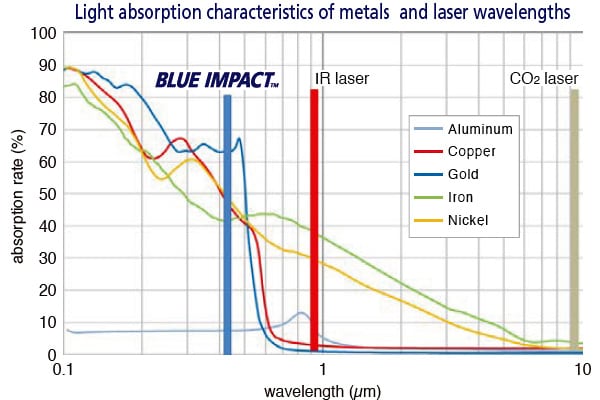 Specification
Parameters
Specifications
Wavelength
450 nm
Output power
100 W
Spectral width
<12 nm
Fiber parameters
Type
Multi-mode
Connector
D-80 or QBH
Core diameter
100 µm
NA
0.2
Length
5 m
Cooling system
Water cooled 1)
Operating temperature range
15~35 °C
Maximum modulation frequency
10 kHz
1) Cooling water circulation equipment is not provided with the product.
Dimensions
Laser unit: H220.5×W482×D597 mm (Excluding fiber)
Power supply unit: H131.5×W482×D397 mm
Laser unit: 44 kg Power supply unit (including cord): 13 kg