Angle and Refractive Index Measurement System in Visible Range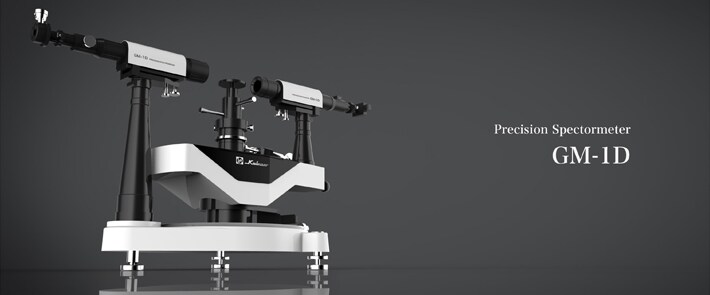 Features
The high-accuracy encoder achieves ±1" angular measurement accuracy and ±0.00001 refractive index measurement accuracy. The angle measured by the encoder is directly displayed on a digital counter. High-accuracy ball bearings used for all rotary sliding parts ensure smooth and accurate rotation. The color-corrected objective lens eliminates the need for readjustment when the measurement wavelength changes.
Applications
Precise angle measurements for prisms, etc.
Refractive index measurements for transparent materials, such as glass.
Specifications
Measurement accuracy
Angular measurement accuracy: ±1"
Refractive index measurement accuracy: ±0.00001
Display
Angle counter digital display
Measurement wavelength range
404.7 nm to 706.5 nm
Slit
Max. effective blade length: 15 mm
Min. reading: 0.005 mm
Objective lens
Focal distance: 450 mm
Brightness: F/10
Effective diameter: 15 mm
Eyepiece lens
Autocollimation eyepiece lens
Focal distance: 15 mm
Angle detector
High-accuracy rotary encoder
External output
RS-232C (for PC connection)
Optional refractive index calculation software
Light source
Standard: Hg light source (with starter)
Optional: 30 W automatic spectrum light-source unit - Hg, He, H2, Cd.
Size and weight
1210 x 550 x 650 mm, 100 kg
This page may contain references to products that are not available in your country. Please contact us to check the availability of these products in your country.