Breast cancer is one of the most common cancers in women. The morbidity rate (rate of being diagnosed with cancer) has been increasing faster than other forms of cancer in recent years, which has caused the number of deaths to continue increasing. Though early detection and early treatment are very important, the pain involved in compressing the breasts during conventional examinations has been a problem. Therefore, Shimadzu developed the Elmammo system, which is able to examine breasts for cancer without causing pain. The Elmammo was released after receiving Japanese Pharmaceutical Affairs Law approval in August 2014.

The system was commercialized based on a prototype developed under a project (from 2006 to 2009) funded by the New Energy and Industrial Technology Development Organization (NEDO) for developing molecular imaging instruments to assist in treating malignant tumors. In addition, clinical trial was performed using the prototype at the Kyoto University Hospital. The Elmammo can examine breasts by simply placing them in the 185 mm diameter detector hole, without compressing the breast or causing patient discomfort. It offers about twice the resolution and about 10 times the sensitivity as full body PET/CT systems*, so it can be used to diagnose cancers that were previously too small to diagnose. Feedback from women was actively incorporated in the design to ensure they feel confident about receiving examinations.
* PET/CT systems
By utilizing the fact that cancer cells consume several times more glucose than normal tissue, PET/CT systems examine cancer tissue by detecting the gamma rays emitted from a gamma ray-emitting drug similar to glucose that is injected into the body.
Comments from a User
Our hospital has been designated as the regional central hospital for cancer treatment. For breast cancer, we perform diagnostics, surgery, breast reconstruction, and follow-up care. We are the first hospital in the world to introduce the Elmammo dedicated breast PET scanning system, which started operation in April of 2015.
It is currently estimated that one in twelve women will develop breast cancer, so breast examinations should be obtained as early as possible, but the pain involved in the examination is a major problem.
The Elmammo not only solves this problem, it is also able to provide extremely high definition images. Therefore, we expect that it will help lead to earlier detection and treatment of breast cancer.
Furthermore, it can even be used to examine patients with pacemakers or with claustrophobia, for whom MRI cannot be used, and it provides a big advantage for patients with conditions that cause pain during mammography, such as painful tumors or mastitis. It can also be used as a tool for confirming the effects of anticancer agents during treatment with medication, which we anticipate will help increase patient quality of life.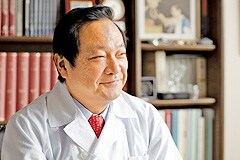 Jitsuhiro Yamada
Senior Manager,
Kizawa Memorial Hospital
Employee Discussion Meeting
We talked to employees involved in developing the Elmammo about their experiences during its development.
Ayako Akazawa (left) of the Image Processing Group,
Data Processing Unit, Technology Research Laboratory
Miyuki Takahashi (right) of the Product Design Group,
Product Design Unit, Corporate Product Design Center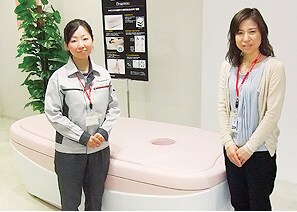 It Started as a Rectangular Box
Takahashi:When I first saw the prototype for this system, it was simply a rectangular box with a hole in it. It looked like a lunch box. At the time, some were saying that the shape would not be changed, so I remember feeling very puzzled, thinking "this is supposed to be a woman-friendly system?" Then later, when the proposal was approved to change the shape to something that looks more like a new product and that is woman-friendly, our group started redesigning the product design. Exchanging ideas about the color, shape, and other features from a woman's perspective resulted in the gentle-looking form the Elmammo now has. In addition to rounding the corners to prevent the body from contacting any sharp edges while getting on and off and using a warm pearl white color that provides a sense of cleanliness for the base, we also proposed cushion materials.
Akazawa:My work mainly consisted of developing the instrument software. In addition to accelerate the processing speed for generating images and calculations, I was involved in improving image quality and developing the software used by hospital technologists to operate the system. Initially it took all night or more to view image results, so my first job after joining Shimadzu was to accelerate the speed. In terms of image quality as well, at first, contrast and resolution were prioritized, which tended to enhance not only the tumors, but also the background and other information (such as the skin and mammary gland tissue)that was unnecessary for diagnostics. In clinical trial at Kyoto University, we worked with physicians and technologists to adjust the parameters for generating images many times to create images that satisfied the needs of those actually using the system for analyzing examination images for diagnostic purposes.
Other than myself, all the researchers involved in developing the system at the laboratory were men, but there were many women physicians and technologists involved in the clinical trial of the system and in related academic societies, which may have made it easier to express my views about this system intended for women. Nevertheless, even from the concept stage, all the researchers were united in their passion to successfully release this system into the world, so we really invested ourselves in the project, almost as though it was our own child (laughs).
Takahashi:When we were creating the brochure for the finished product, I worked together with several women from the Medical Systems Division to create the content, layout, and so on. By mutually exchanging ideas, we managed to finish the brochure and even proposed ideas for the spatial design, including the interior of the examination room where the system would be installed. The brochure conveys an image of having breast examinations performed with the system installed in a calm environment with a sense of warmth. Our previous brochures typically focused on promoting practical benefits for hospitals, such as the usability, but the Elmammo brochure was prepared based on the patient's perspective, focusing on how examinations can be performed smoothly in a relaxed environment without any discomfort.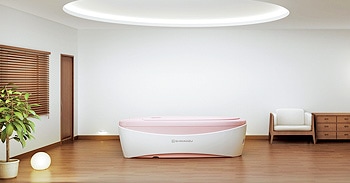 Expectations for the System
Akazawa:The survival rate for breast cancer can be improved with early detection and treatment. A person close to me has suffered breast cancer, so I hope the Elmammo reduces the number of breast cancer patients, even by one. Of course, there is a limit to how much we can do as a medical equipment manufacturer alone. We still need to rely significantly on the physicians and technologists, but I hope we can play a significant role in the process of fighting breast cancer. Also, considering that patients must continue to receive painful breast examinations even after being diagnosed with cancer, I think the world has high expectations for the Elmammo as well.
Takahashi:Once I heard about the concept of relieving women from having to endure pain, I wanted to finish developing the system as soon as possible and began thinking how nice it would be to have an instrument that helps heal and soothe anxiety in hospitals, which tend to be a little depressing. I hope it will prove helpful for patients.