Stakeholders Engagement
2017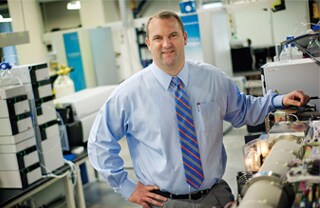 Feedback from a Partner
We are currently undertaking one of the most extensive investigations of the potential impact of hydraulic fracturing that is a procedure used to recover shale gas. In the process of fracking, a hole is drilled into the Earth after which a high-pressure liquid mixture of water, chemicals, and sand is injected into the rock. We previously had clarified the facts on finding highly levels of arsenic in groundwater near North Texas shale gas wells, and further studies have been completed in other parts of Texas. We currently have methods for both chemical and biological characterization that allow us to comprehensively evaluate environmental water quality. Collaboration and partnerships with SHIMADZU have been extremely productive in helping us meet our analytical goals. We also have a high expectation for SHIMADZU to collaborate in developing new streamlined solutions by analyzing big data in research areas as diverse as environmental contamination and disease biomarker discovery.
Mr. Kevin A. Schug
Professor of Chemistry and Biochemistry, The University of Texas at Arlington
Shimadzu Distinguished Professor of AnalyticalChemistry
2016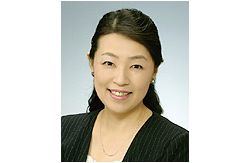 Voice of a Stakeholder
With the Paris Agreement concluded at the 21st meeting of the Conference of the Parties of the United Nations Framework Convention on Climate Change (COP21), it can be said that the world has started shifting from a low-carbon society to a "carbon-free society."
Now, the method of backcasting, which is to depict a vision (ideal future image) and set mid- and short-term goals based on that vision, is being required more than ever, and I will pay close attention to Shimadzu's efforts in the future, especially what goals are set and how activities are conducted. I believe that measures from the point of view of the value chain, including customers and suppliers, as well as business continuity planning (BCP) responding to the risk to energy supply, will also contribute to the reduction in CO2 emissions.
I really hope that the spirit of Shimadzu, which has made a significant contribution to local communities for a long time, will continue to remain as it is for future generations.
Shizue Hattori
Professor of the Department of General Humanities,
Faculty of Humanities Kyoto Seika University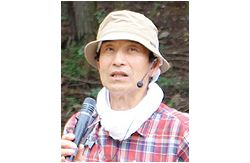 Voice of a Stakeholder
For the first time since the last visits in the autumn of 2011 and spring of 2012, I came to the "Shimadzu Corporation Forest" in Nantan City, Kyoto, and was greatly impressed with its transformation and beauty. Thanks to tree thinning, the artificial forest of Japanese cypresses has improved, with better space for airflow, bringing in sufficient sunlight.
What concerned me slightly, though, were the natural forests such as Prunus grayana, which are distributed over the lower stretches of the water catchment area.
This was because, in contrast to the upper-layer trees covering the top, there were no lower-layer trees, which there should have been in the middle or lower layer of the forest.
Having said that, seeing youngsters practicing a rugby club in SHIMADZU drill so vigorously that their voices sounded as if trees were falling, I had a feeling that I can rely on future generations to take care of the forest.
The best part of this forest is that you can spend an enjoyable time there with your family.
Shigeru Matsutani
Honorary Curator of the Kyoto Prefectural Botanical Garden
Guest Professor at Kyoto Prefectural University
Dialogs with Stakeholders
We invited some influential individuals to have a dialog about Shimadzu's Environmental and Social Report and Shimadzu's activities in general. The following is a selection from the valuable views expressed during that dialog.
| | |
| --- | --- |
| Date | April 24, 2015 |
| Location | Shimadzu Corporation, Sanjo Works |
| Overview | After touring the production plant facility, the product showroom, and so on, they exchanged views with |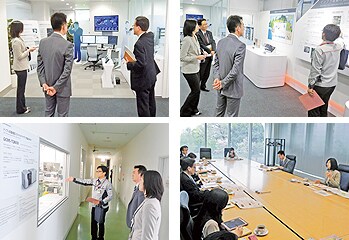 Comments from an
Outside Expert (1)

Kazuhiko Takano
Deputy Dean, Professor,
Faculty of Safety Science,
Kansai University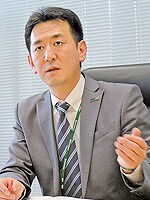 I was impressed with Shimadzu's stance on creating products with high added value while striving to satisfy the needs of customers. The report conveys the sincerity and earnestness of Shimadzu. I think the report is wonderful just as it is, but I think corporate value could be further improved by giving more detailed information about company activities to give a better impression, such as regarding corporate social responsibility.
That would simultaneously help increase employee motivation and also be important in terms of compliance.
For example, Shimadzu pioneered using control self-assessment practices for risk management. You were also a leader in adopting business continuity planning, corporate governance, and information security practices. I think information about such measures should be included as well. Lately, such information is also important to investors, so I hope the report will indicate that such measures are escalated each year as improvements are made going through PDCA cycles.
Comments from an
Outside Expert (2)

Emi Sugawara
Associate Professor,
Faculty of Law,
Osaka University of Economics and Law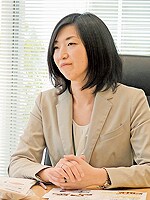 I think the report put more focus on social aspects than the one in 2012 when I participated in your stakeholder dialogue. However, diversified stakeholders have been engaging in evaluation of business activities lately, so it is ever more important for business to provide transparency. In order not to lead to misunderstanding among stakeholders that a lack of information means a lack of activity, information of activities should be proactively disclosed.
Apparently, Shimadzu has developed internal systems such as work-life balance programs and diverse employment for foreigners, so one of pillars for the next report should be "diversity in the workplace", which would shows Shimadzu's policy to be a better place to work for a wider variety of people. I believe that it send a strong message to those interested in working at Shimadzu and also to your current employees.
As the next step, I hope that Shimadzu will establish and implement "social" management systems in addition to environmental ones (EMS), and that you will describe how Shimadzu activities and products are involved in helping people around the world achieve their environmental and health rights.