Shimadzu Employee Ari Matsumoto Wins the Showa-no-Mori Open Tennis Tournament!
SHIMADZU Breakers Team Members Achieve a Strong Performance!
Video on SHIMADZU Breakers Team Members
Ari Matsumoto, a member of the SHIMADZU Breakers tennis team, won the women's singles title in the October Showa-no-Mori Open Tennis Tournament held on October 12, 2020!!
Ari Matsumoto also reached the semi-finals in the doubles competition in the same tournament. She also demonstrated a brilliant performance paired with Suzuho Oshino, another Shimadzu employee and player in the SHIMADZU Breakers!
Ari Matsumoto, Shimadzu Employee who Won the Singles Title
Profile of Ari Matsumoto, Shimadzu Employee Player
Ari Matsumoto joined Shimadzu Corporation on April 1, 2020. She works in the Corporate Communication Department, where she is involved in public relations, and is also a tennis player on the company team. She has an especially strong reputation for her tenacious rallies.
In the finals match of the Tournament on October 18, she faced Ayumi Koshiishi (Ryuko Kagaku Co., Ltd.). She lost the first set and had her back against the wall in the second set, to the point she would have lost the match if she dropped even one game. But then she displayed her characteristic tenaciousness to come back to win 3-6, 7-6(4), and 6-4.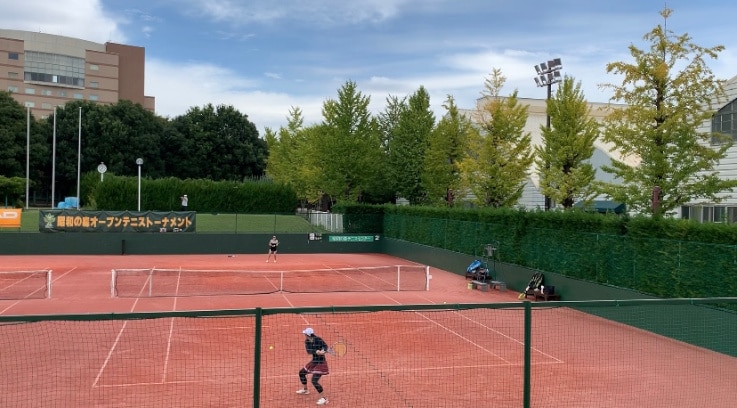 Singles Semi-Final Match (Ari Matsumoto in the foreground)
This is the first title Ari has won since joining Shimadzu. She said, "It was a tough tournament," but "Now I know what to work on, so I'll work hard to improve and move to the next level!"
SHIMADZU Breakers Professional Players Also Gave a Strong Performance
At the 2020 Takasaki Open held from September 26 to October 10, SHIMADZU Breakers professional players Hiroko Kuwata and Mai Hontama paired up to win the doubles title!!
Doubles Winners Hiroko Kuwata (left) and Mai Hontama (right)
Their opponents were a pair of experienced two-time winners of the All Japan Tennis Championships, Kanako Morisaki (Hashimoto Sogyo Holdings Ltd.) and Minori Yonehara (Meiji Yasuda Life Insurance Company), but Kuwata and Hontama's aggressive playing led to a win. It was the first time Mai Hontama had won a doubles title.
Mai Hontama also reached the singles semi-finals in the same tournament!
Breakers are Ready for the All Japan Tennis Championships.
The SHIMADZU Breakers will appear in the 95th Mitsubishi All Japan Tennis Championships, held at the Ariake Coliseum and Ariake Tennis Park in Tokyo starting October 28, 2020!
Four Shimadzu professional players will compete in the championships—Hiroko Kuwata, Akiko Omae, Haruka Kaji, and Mai Hontama.
Though this year's championships will be held without any spectators, the matches will be broadcast live by the Japan Tennis Association. The finals matches will also be broadcast on November 1 by NHK BS1.
Page Title and URL Copied.