Shimadzu Aircraft Equipment Used to Ensure Safe and Comfortable Flight
December 17 is Wright Brothers Day!
December 17 has been designated as Wright Brothers Day. It commemorates the world's first successful manned flight in a powered aircraft by the Wright Brothers. The flight occurred in North Carolina State in the United States on December 17, 1903.
But did you know that Shimadzu Corporation is involved in making aircraft equipment? Today, we want to introduce Shimadzu's aircraft equipment business, which contributes to ensuring safe and comfortable flights.
Main Products of Shimadzu's Aircraft Equipment Business
The main products of Shimadzu's aircraft equipment business are flight control systems, air management systems, and cockpit display systems. These products help ensure safe flights, a comfortable environment and workload reduction for passengers and crew. Shimadzu supplies such systems and components to aircraft manufacturers.
What are Flight Control Systems?
Flight control systems control aircraft flaps, slats, or other flight control surfaces that allow the aircraft to ascend, descend, turn, or perform other movements reliably.
Pilots control the flight path and orientation (attitude) of aircraft by using the flight control system to operate various control surfaces and adjust the engine power as necessary.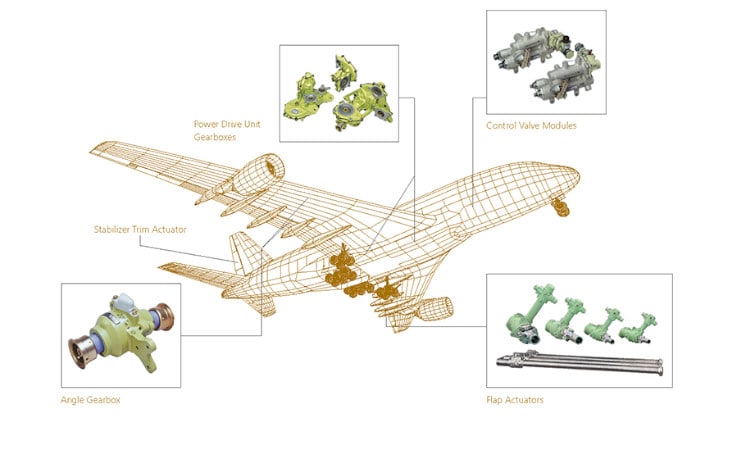 Air Management Technologies Help Provide A Comfortable Cabin Atmosphere
"Air management system" is the general term for all air-related systems in an aircraft, from engine air-bleed to pressurizing the cabin air. Examples include bleed air systems, anti-icing systems, air conditioning systems, and pressurization systems.
Among such systems, the air conditioning and pressurization systems are referred to as environmental control systems to maintain the cabin environment within appropriate levels. They control the exchange, pressurization, and temperature of the air within the cabin to provide passengers with comfortable environment.
Cockpit Display Systems Support Pilots to Ensure Safety Flight
Cockpit display systems are optical display systems that allow a pilot to easily monitor flight information and conditions outside an aircraft while flying with high speed and high maneuverability.
Shimadzu offers optical display equipment, such as helmet mounted display (HMD) systems, head-up display (HUD) systems, and head-down display (HDD) systems.
Sophisticated electric and optical technology contribute to reduce pilot workload and secure flight safety..
History of Shimadzu's Aircraft Equipment Business
Shimadzu started manufacturing air conditioning systems and other aircraft equipment in 1955 when Japan launched plans to build a domestically made jet aircraft. The following year, Shimadzu formed a technical alliance with Garrett Motion Inc. of the United States (currently Honeywell Aerospace) and started an aircraft equipment department. In 1957, Shimadzu became fully involved in the business by establishing the Aircraft Equipment Division.
In 1961, Shimadzu began supplying flap actuators and other equipment for the YS-11, Japan's first passenger aircraft.
Later, the division expanded the business, supplying a variety of equipment to Boeing.
Development of Marine Devices and Magnetic Measuring Devices
Currently, the Shimadzu Aircraft Equipment Division is also working on products such as underwater optical wireless communication modems, magnetic sensors, and magnetometers.
Magnetic sensors are used to search for objects made of steel, nickel, or other strongly magnetic metals, such as steel pipes, artillery shells, weapons, and sunken ships. Magnetometers are widely used to measure geomagnetism or magnetic fields generated by magnetic objects.
Underwater optical wireless communication modems enable wireless communication through water at speeds of several tens of megabits per second. These devices use semiconductor lasers to achieve high communication performance and are being deployed in unmanned submarines (underwater drones).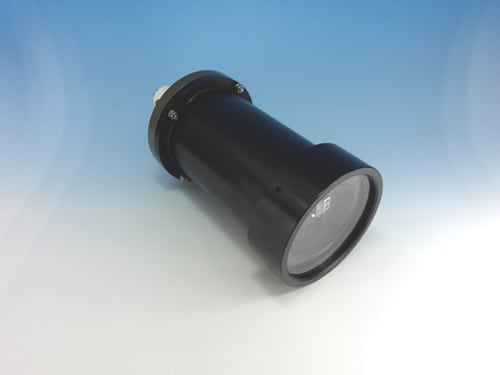 MC100 Underwater Optical Wireless Communication Modem
■ For product information about aircraft equipment, marine equipment, or magnetic measuring devices, click here.
Page Title and URL Copied.