Deciphering the Brain with Shakespeare
Neuroscience Research at the University College London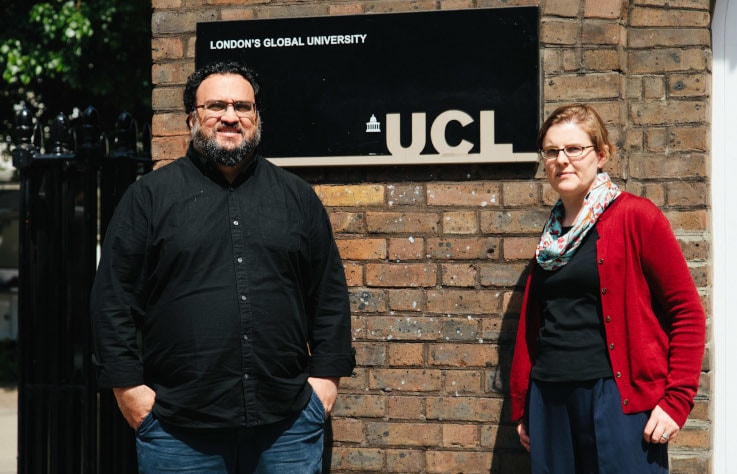 Our corporate web content, "MOMENTUM," features stories of collaboration with our partners throughout the world. The site introduces their efforts and passion behind to address today's social challenges.
Today we introduce the article, "Science and Shakespeare," highlighting a research project at University College London that uses functional near infrared spectroscopy (fNIRS) to measure the brain activity patterns of Shakespeare actors.
Unique Scientific Approach Using Shakespeare Plays
At University College London in the UK, Professor Antonia Hamilton of the Institute of Cognitive Neuroscience and Dr. Ilias Tachtsidis of the Medical Physics and Biomedical Engineering Department are doing very unique research.
They are using Shimadzu's LIGHTNIRS Portable functional Near-Infrared Spectroscopy System for Research* and measure the brain activity patterns of actors wearing LIGHTNIRS sensors as they perform a Shakespeare play on stage.
* Research Use Only. Not for use in diagnostic procedures.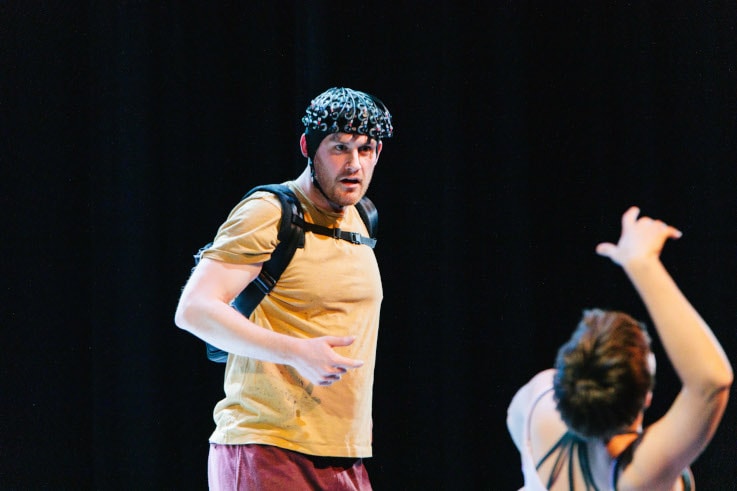 Actor Wearing the LIGHTNIRS System While Performing Shakespeare
The goal of the research is to gain new scientific knowledge about human social cognitive mechanisms and understand the differences between people with an autism spectrum disorder and those without.
Research Goals —To Help Children with Autism
Given that actors are skilled at repeating the same actions over and over, Professor Hamilton intends to help towards research and development to identify the common neurological patterns of people who have difficulties with social skills by recording the brain activity of actors during specific interactions.
The ultimate goal of this project is to "find behavioural therapies that can make autistic children more comfortable when interacting with people", said Prof. Hamilton.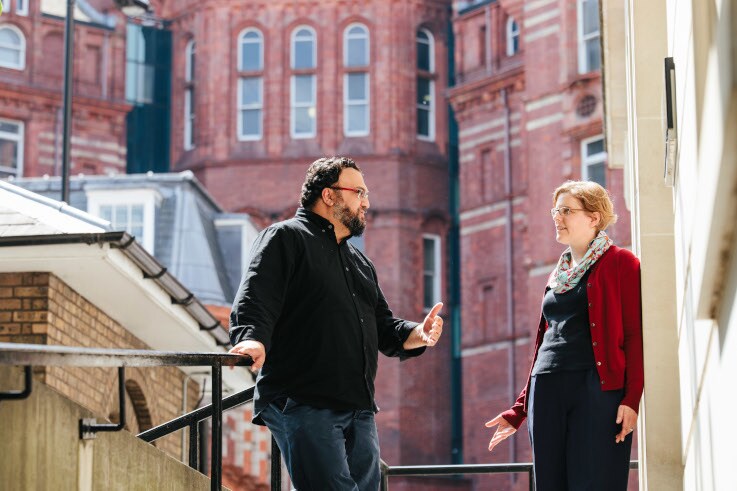 Dr. Tachtsidis (left) and Professor Hamilton (right)
■ To read the entire interview article "Science and Shakespeare," click here.
Note: The titles and affiliations of people mentioned in the article were current as of the interview date in May 2019.
LIGHTNIRS Portable functional Near-Infrared Spectroscopy System for Research
Brain function imaging is a technology used to measure and visually display brain functions and activities. Near infrared light, which readily diffuses easily through biological tissue, can be used to measure localized blood oxygenation levels of the brain to monitor where activity occurs in response to a task of stimulus. The portability of LIGHTNIRS allows visualizing brain function activity in real time in a more natural state than other methods.
Consequently, it is being used in broad applications including medical research, developmental psychology, education, cognitive science and engineering.
LIGHTNIRS is a small, light, and portable system that enables highly flexible measurements to be made. A key advantage is the ability to acquire stable data as it uses three wavelengths of light. These advantages provided the foundation for measuring the brain functional activity of actors on stage in this University College London research.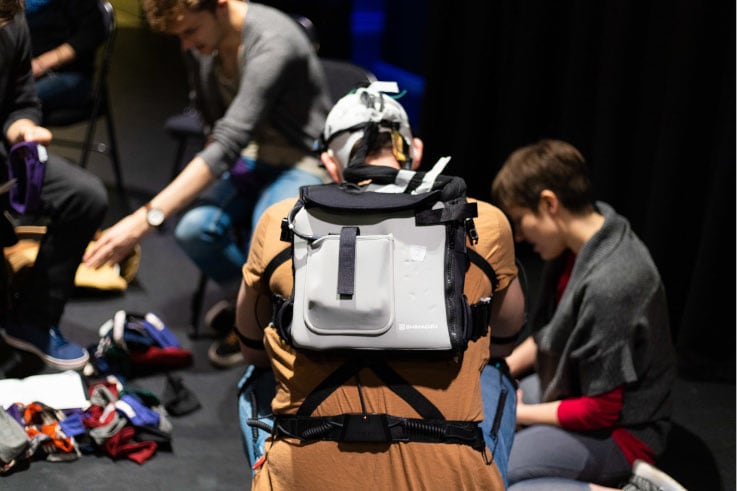 Enables Flexibility in Measuring Data on Stage
Note: LIGHTNIRS is a portable functional near-infrared spectroscopy system for research*.
* For Research Use Only. Not for use in diagnostic procedures.
Comment from the Shimadzu Interviewer
University College London (UCL) boasts an extremely long history, having been founded in 1826. (Shimadzu was founded in 1875.) UCL also has long historical ties to Japan, and Soseki Natsume, the most famous novelist in Japan attended as a foreign exchange student. When I first heard about this story from the Shimadzu representative in Europe, I could not imagine how a Shimadzu scientific instrument could be associated with the words "Shakespeare play," but interviewing such university researchers with ties to Japan about this unique project was a truly valuable experience.
Page Title and URL Copied.