Mai Hontama Competes in the US Open Qualifying Tournament
First Appearance and First Win in a Grand Slam Tournament!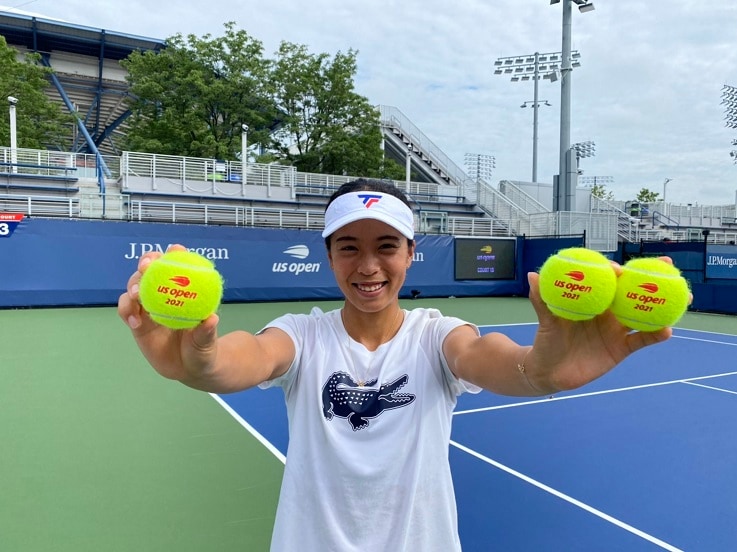 Mai Hontama, professional tennis player for the SHIMADZU Breakers tennis team, competed in the 2021 US Open qualifying tournament.
It was her first appearance in a Grand Slam tournament since turning pro. Though she didn't reach the main draw, she gained a victory in the first round!
The following is a profile of Hontama, who has now gained momentum after winning her first International Tennis Federation (ITF) tournament this year.
Profile of Mai Hontama
Mai Hontama joined the SHIMADZU Breakers in 2019 to become a sponsored athlete of Shimadzu Corporation. She is the youngest player on the team. Her strong points include quick footwork, tenacity, and a diversity of shots.
From her first year on the team, she has won the women's singles title at the All Japan Tennis Championships. And she led the team to fifth victory at the 34th Tennis Japan League championship, the team's first win in three years, where she also earned the MVP and rookie awards.
Ceremony of Tennis Japan League championship
In May this year, she won a tournament with a total prize $25,000 and achieved her dream of capturing her first international title. That was followed by winning a second title in June. As a result, she moved up more than 100 places in the world rankings, and as of September 29, she ranked 200th, her highest ranking ever.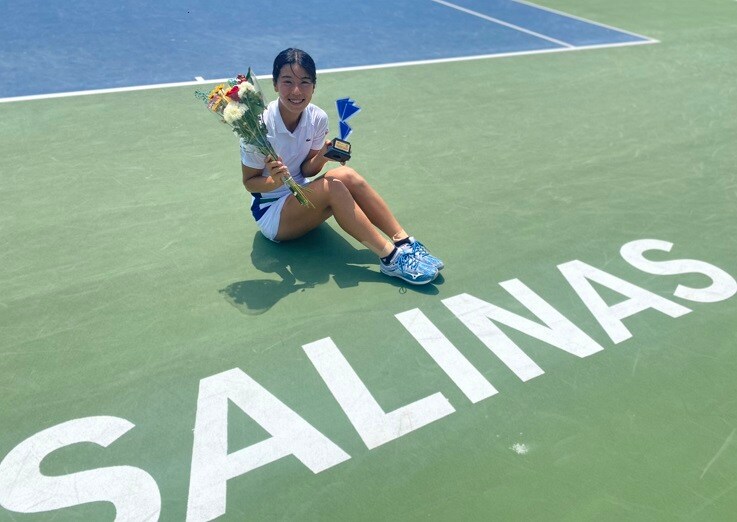 First Tournament Win in Ecuador
Born

August 30, 1999

Home Town

Tokyo

Turned Pro

May 2018

Singles Ranking as of September 29, 2021

WTA (world ranking): 200
JTA (Japan ranking): 4

Handedness

Right-handed (two-handed backhand)
Wins First-Round Match in US Open Qualifying Tournament!
Though Hontama had experience playing in the Junior US Open tournament, she said this time, "I was so nervous that my body wouldn't move properly." But she showed energetic play.
In the first qualifying round, Hontama played against Mona Barthel (Germany), who previously ranked 23rd in the world. Hontama lost the first set because she was too nervous to play as well as she wanted, but then she fought back with firm determination and tenacity to win from behind, saying, "I was determined to get a hold of powerful hits from her." That resulted in capturing a priceless first-win in a Grand Slam tournament.
In the second round, she played valiantly against number six seed Greet Minnen (Belgium) but fell short of winning. Nevertheless, the experience seems to have provided a great boost to her confidence.
| | Opponent | Score | Result |
| --- | --- | --- | --- |
| Qualifying Round 1 | Mona Barthel | 6(0)-7, 7-5, 6-2 | ○ |
| Qualifying Round 2 | Greet Minnen | 3-6, 6(3)-7 | ● |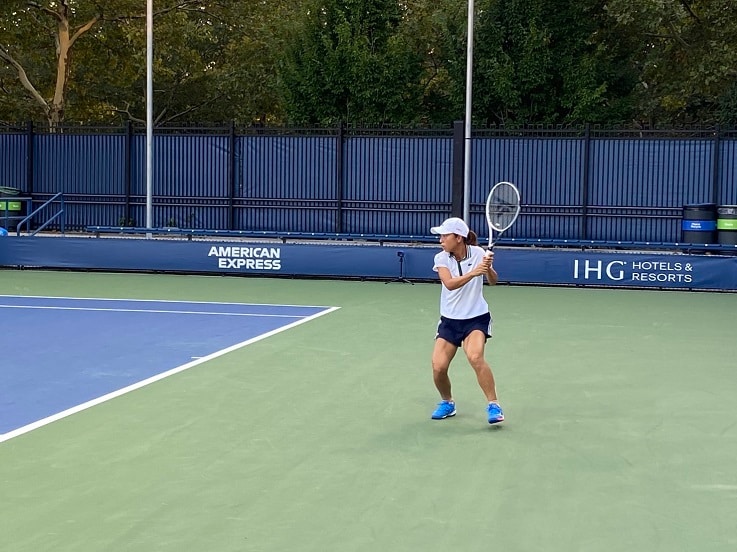 Comments from Mai Hontama
During the Grand Slam qualifying matches, I was far more nervous than I expected, which kept me from playing at my best, but this opportunity has given me confidence. I intend to come back and keep winning here, where the best players from around the world compete. This experience has renewed my determination. My coach and I will analyze my performance and decide what I need to work on to become even better next time!
Of course, I could never have competed in this tournament at all based on just my own efforts. Therefore, I am incredibly grateful to everyone who has encouraged and supported me. Thank you so much for cheering me on!
Comments from the SHIMADZU Breakers Head Coach
SHIMADZU Breakers head coach Hiroko Komori shared the following comments about Hontama's recent success and expectations for her performance in the Japan League tournament scheduled in December 2021.
Hontama has been performing quite consistently this year, including staying in good physical condition, with two wins in tour competitions outside Japan.
She is strong both offensively and defensively and is known for her competitiveness. The confidence she gained from a Grand Slam match will definitely have a great impact on how she plays in the coming Japan League matches and future competitions. I am sure she will play at a much higher level of performance.
I look forward to seeing even more success from Hontama.
Page Title and URL Copied.