Diversity Day 2021: Diversity is a Source of Science and Technology

Shimadzu believes that diversity is the source of science and technology, and promotes diversity and inclusion to contribute to society through science and technology.
The Shimadzu Group celebrates Diversity Day every year in October, and it was held on October 8 this year. In-house events were held around this date by a diversity promotion project team to focus on diversity and inclusion in our everyday lives.
Keynote Speech: Professor Christina L. Ahmadjian
A keynote speech on diversity and inclusion was delivered by Prof. Christina L. Ahmadjian of the Graduate School of Business Administration, Hitotsubashi University.
Prof. Ahmadjian talked about the differences of business styles between Japan and other countries, and stressed that in spite of difficulty in introducing diversity into Japanese companies, it was important to think of how to accept D&I and take actions for future growth.
This lecture was distributed to employees
Discussion between Professor Ahmadjian and Shimadzu's Director in charge of Diversity Management
Yoshino Kajitani, a Managing Executive Officer and Director of Human Resources, Diversity Management, and Health Management, had a discussion with Prof. Ahmadjian. In their conversation, they shared a notion that everyone is different, and everyone has a diverse background.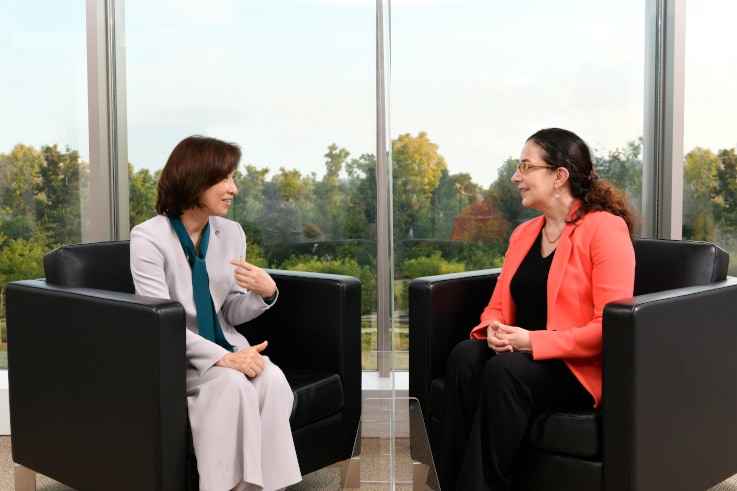 Yoshino Kajitani and Professor Christina L. Ahmadjian
Global Feast
From October 4 to 8, dishes from employees' home countries were provided in our cafeteria at the Head Office. Some employees introduced their favorite recipes and foods from their native lands.
This was a valuable opportunity to realize that employees from different parts of the world are working together.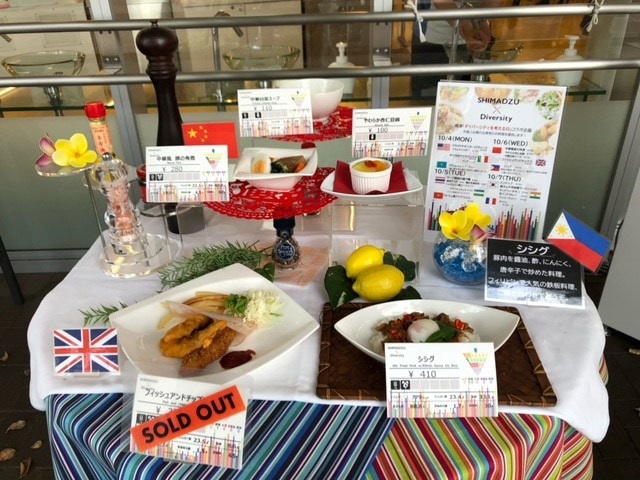 D&I Senryu Poem Contest
An in-house contest was held for the best senryu (Japanese 17 syllable poem) inspired by diversity and inclusion. More than 200 poems were applied from Japan and overseas, and the best 6 received awards.
Sharing Stories of Male Employees Who Took Childcare Leave
Three stories were introduced regarding the experiences of male employees who had taken childcare leave, and the thoughts of a female employee whose husband had taken childcare leave. By introducing these stories, we encourage new dads to take childcare leave and be more involved in childcare.
Message from the General Manager of the Human Resources Development Department
The following comment was made by Toshie Sezaki, General Manager of the Human Resources Development Department, regarding diversity promotion:
More and more people are recognizing the necessity of diversity promotion. However, many people still feel that working with people who have different backgrounds and thought processes is difficult.
On the occasion of Diversity Day, I hope one day diversity can be a natural state and everyone can experience diversity naturally in their everyday life. To achieve this goal, we need to respect each other and keep practicing positive discussions in our daily work.
Message from the Director in charge of Diversity Management
Yoshino Kajitani, a Managing Executive Officer, made the following comment:
Regarding diversity management, we need to combine our individual strengths, including our individual approaches, values, experiences, and other deep attributes as well as obvious aspects such as gender and nationality to improve corporate value.
Therefore, I believe that a first step is for each employee to get more involved in diversity and take actions to improve D&I in their daily life.
Reason the Shimadzu Group Promotes Diversity and Inclusion
The Shimadzu Group is promoting diversity and inclusion for the following reasons.
Combining diverse types of knowledge and senses of value provides a new source of science and technology.
Providing a workplace environment where employees are free to fully utilize their strengths leads us to continue to be an admired company that attracts top talents.
Each employee feeling like they are a valued member of their workplace provides the foundation for employee trust in the company and sharing corporate value.
At Shimadzu, Diversity Day was established in 2020 based on our corporate philosophy, "Contributing to Society through Science and Technology", to promote employees' performance and the innovation. It will become a good opportunity for employees to think about diversity and inclusion.
Page Title and URL Copied.