Shimadzu (China) Co., Ltd. Exhibited at the China International Import Expo - Promoting Current and Future Contributions to Society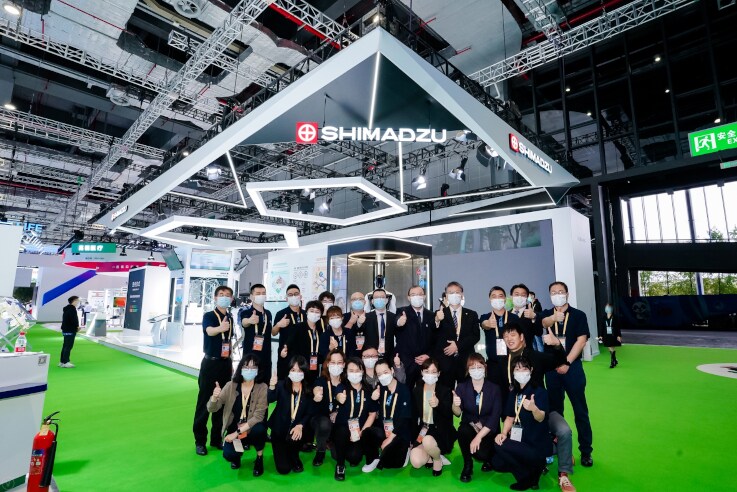 Shimadzu (China) Co., Ltd. (SSL), a Shimadzu Group company in China, showcased a variety of instruments at the China International Import Expo (CIIE), held from November 5 to 10 at the National Exhibition and Convention Center in Shanghai.
The following is a report from local personnel at SSL.
The China International Import Expo and the Shimadzu Booth
The CIIE is a general trade show sponsored by the Ministry of Commerce of the People's Republic of China and the Shanghai Municipal People's Government. This year, the fourth year of the event, over 2,900 companies participated in the event, representing 127 countries and regions, bringing the total number of visitors to 480,000.
The theme for the SSL booth was "ALL SHIMADZU for ONE SOCIETY."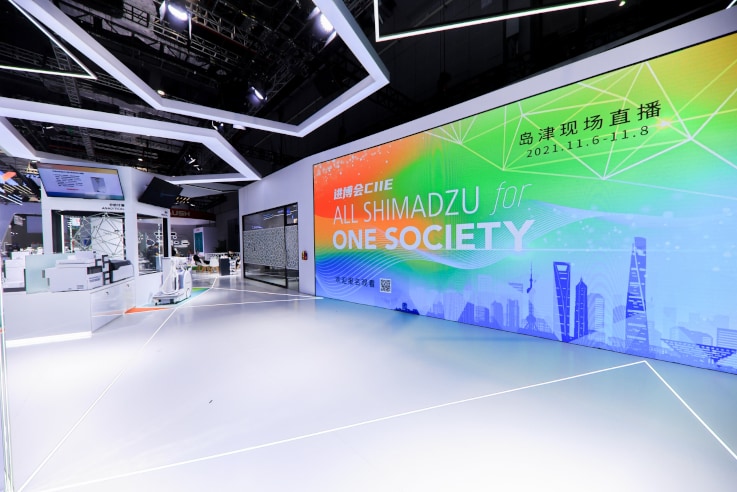 A wide range of advanced healthcare products and technologies used to support research and development for each stage of a healthy life cycle, including ultra-early screening, diagnosis, treatment, and prognosis, were exhibited. In addition, environmental measuring instruments that contribute to achieving a circular economy and industrial machinery for promoting the advancement of industry were shown. The booth also featured large screens displaying three-dimensional videos showing how Shimadzu contributes to society today and will continue to do so in the future.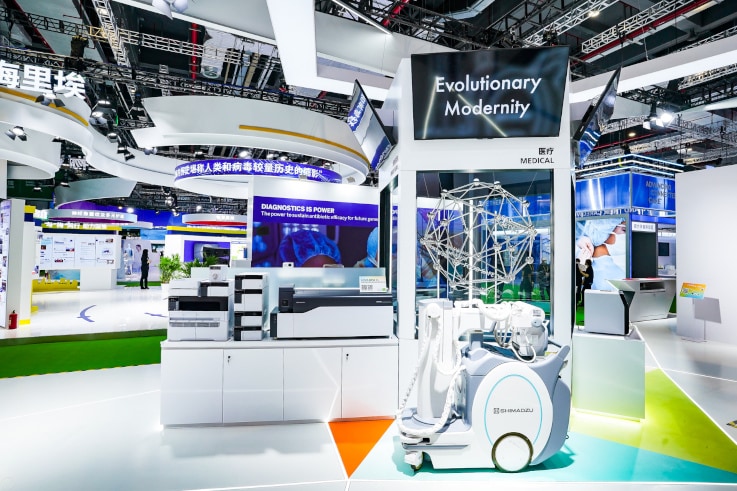 A variety of innovative features at the booth kept it bustling throughout the Expo with product users, company representatives, and general Expo visitors.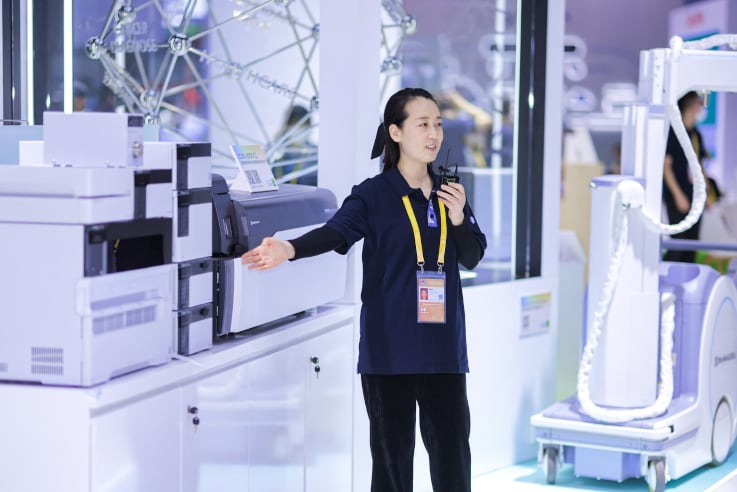 Introduction of the Shimadzu booth
Gifts for Customers were Popular and Even Featured by Local Media
The gifts for customers that SSL created in cooperation with a local dye workshop near Shanghai were especially popular and even featured in local media reports. Local artisans crafted each gift one at a time based on designs prepared by SSL.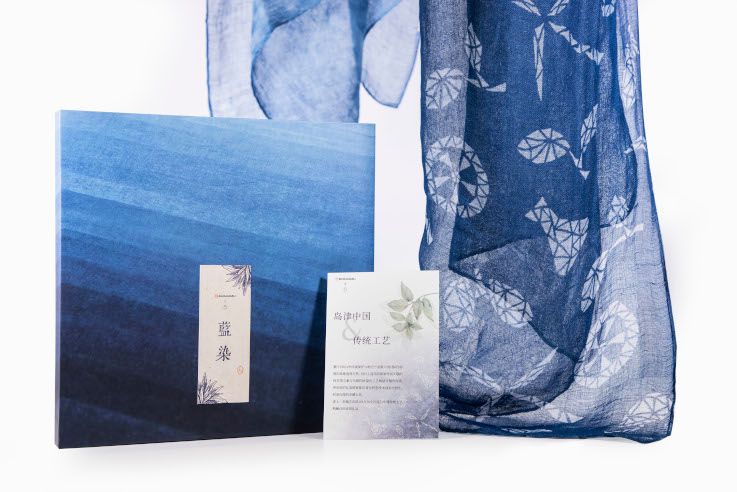 Based on SDGs and contribution to local industry as themes, the gifts were made with all-natural materials and dyes. The remaining fabric scraps were used to make polo shirts for booth staff.
Production process of the Gifts for Customers
Comments from Employee in Charge of Live Broadcasting the Event
Yue Zhong from the SSL Marketing Department, who helped with planning and executing the live broadcast from the Import Expo, offered the following comments.
This year, we exhibited on-site and produced a live broadcast as a new format for participating in exhibitions. Live broadcasting offers many advantages by overcoming the limitations of space and time. As the scope of broadcast content expands, better content and a superior user experience are being demanded.
Our broadcast was transmitted over a three-day period, which required the cooperation of many Shimadzu Group departments. In this particular case, thanks to support from Headquarters in Japan for video production, we were able to provide an opportunity for many customers in China that cannot go to Japan to gain a deeper understanding about the history and culture of Shimadzu, the advanced healthcare business, and its research outcomes. The various divisional organizations, including business planning departments, Innovation Center, and Application Center in China, also actively participated in the broadcast by working across normal departmental boundaries to focus attention on the theme "ALL SHIMADZU for One Society" and comprehensively promote products, businesses, strategies, and core values.
In addition to live broadcast content, viewer experience is also extremely important. We started preparing for the project in April and repeated many tests and rehearsals. This project also provided us with invaluable experience holding such a large exhibition successfully.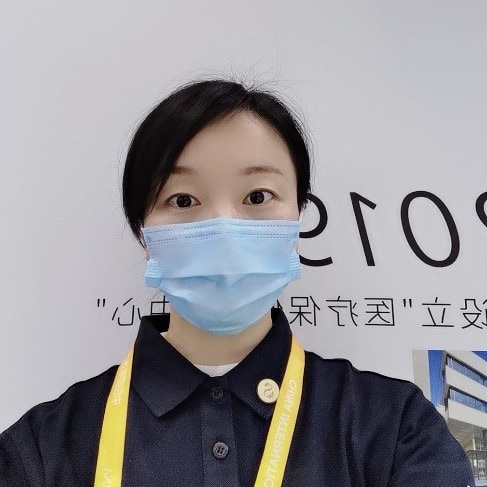 Yue Zhong from the SSL Marketing Department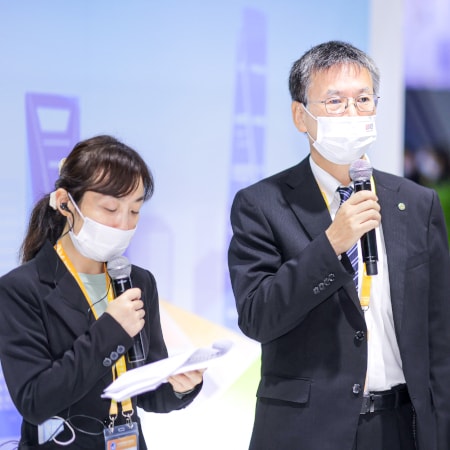 Live broadcasting in the booth
Comments from the Japanese Expat in Charge of Design
The following are comments from Jun Kawai, a member of the Design Department at SSL, who was involved in the planning and operation of the booth.
It was a large project that took about one year from plan proposal to actual implementation.
As a Japanese expatriate, it became a major challenge to develop an appealing exhibition based on the theme of Shimadzu's contribution to society and future development, rather than an exhibition that simply displayed products side by side. To improve on last year's exhibition, I worked closely with many colleagues and design partners to refine the exhibition content by conducting several brainstorming sessions with them.
For the VIP customer gifts, I was involved in every aspect of the design, such as proposing project plans, suggesting fabric designs, working with the local dye workshop, developing the game-based distribution method, and preparing a gift creation video. As a result, I received many positive comments and realized that "design never should be about designing a single product, but rather should be about improving the total brand image by comprehensively monitoring every touch point with customers."
To keep improving the Shimadzu brand image in the future, I intend to continue promoting communication design from the viewpoint of design.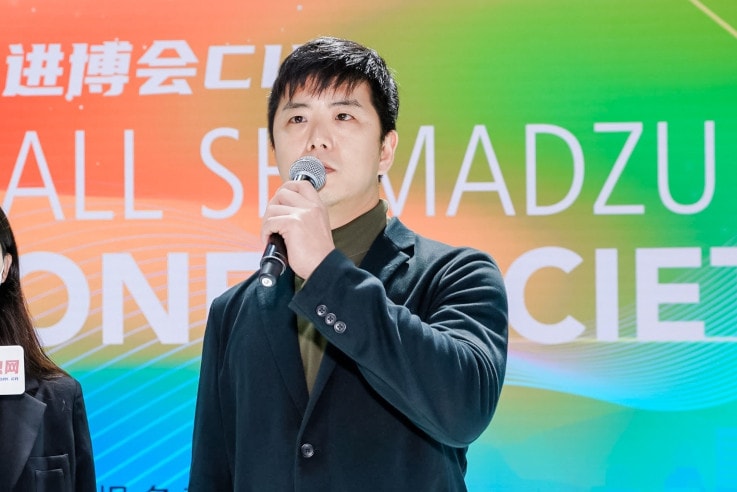 Jun Kawai, a member of the Design Department at SSL
Page Title and URL Copied.