For Contributing to Carbon Neutrality with Science and Technology
How do we achieve a carbon-free society? Shimadzu is taking various initiatives regarding this shared global challenge. Shinji Takeuchi, General Manager of the Global Environmental Management Department, takes the lead at the front lines of Shimadzu efforts toward environmental management. We asked him how Shimadzu is contributing to this field.
What does Carbon Neutrality Mean? How is it Related to Global Warming?
In recent years, abnormal weather patterns, including heavy rainfall, flooding, heat waves, and extreme cold, have occurred frequently worldwide. These are believed to be due to a rise in global temperatures. The average global temperature since the Industrial Revolution has continued to climb because of an increase in CO2 (carbon dioxide) and other greenhouse gas (GHGs) emissions. This is called global warming. In addition to a rise in temperature, this has resulted in more rainfall, a rise in sea levels, higher sea temperatures, and other aspects of climate change. Therefore, taking initiatives to achieve carbon neutrality is more important than ever.
Carbon neutrality refers to achieving net zero emissions of CO₂ and other GHGs.
While reducing the emissions of GHGs generated from human economic activity as much as possible, GHG emissions can be reduced to net zero through a process of compensation. This includes increasing the amount of CO₂ absorbed through afforestation and forestry management, while collecting and retaining the CO2 emitted from electric power stations and factories. In other words, it means not increasing GHGs to the atmosphere anymore.
In October 2020, the Japanese government declared its goal of achieving carbon neutrality by 2050. In December of the same year, the Ministry of Economy, Trade and Industry formulated its "Green Growth Strategy through Achieving Carbon Neutrality in 2050." A total of 14 fields were specified in which growth is expected from the perspective of both industrial policy and energy policy.
(Reference: Ministry of the Environment website, Ministry of Economy, Trade and Industry website)
Contributing to Carbon Neutrality with Science and Technology
Some of the 14 fields relate deeply to Shimadzu technology. But how will Shimadzu technology contribute to carbon neutrality?
We believe that Shimadzu instruments and technologies can be used for major decarbonization projects aimed at social implementation, rather than basic or applied research, and they will enable significant progress toward achieving carbon neutrality.
For example, in the hydrogen industry, our analytical instruments can analyze raw hydrogen and its impurities, and investigate deterioration and leakage of the containers and infrastructure used to store and transport hydrogen. In the ammonia fuel industry, these instruments can determine whether the gases produced after the combustion of ammonia gas contain hazardous substances. In the offshore wind power industry, Shimadzu technology could be applied to diagnosing the deterioration of concrete structures and submarine cables.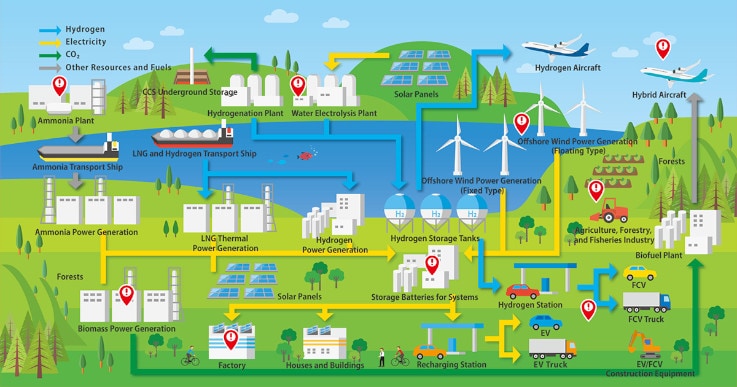 The field of carbon neutrality contributed by Shimadzu
Promoting Widespread Use of Products and Technologies Related to Green Growth Strategies
The Global Environmental Management Department actively strives to provide information about how Shimadzu's products and technologies contribute to the realization of carbon neutrality.
The examples described above are just part of our activities. We have established a webpage entitled "Towards Carbon Neutrality," and produced a brochure to inform customers and stakeholders about our products and technologies related to the 14 fields in the green growth strategy.
There are various challenges to face in aiming for carbon neutrality, and completely new technologies are required. We intend to develop new technologies in collaboration with our customers, based on the wealth of experiences and technologies accumulated together to date, and contribute to society with these technologies.
Brochure "Towards Carbon Neutrality" is available here. (PDF:9.08MB)
Improving the Environmental Friendliness of Business Activities
In addition to products and technologies, we are pursuing reductions in the environmental load of business activities themselves.
Page Title and URL Copied.