Nakamura from the Shimadzu Technical School Won the Silver Prize in the 59th National Skills Competition!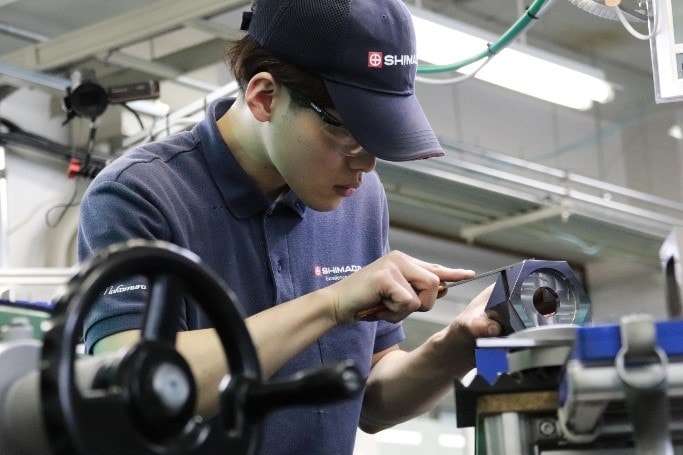 In December 2021, Fumito Nakamura, a member of the technical school at Shimadzu's HR Department, won the Silver Prize in the milling machine work category in the 59th National Skills Competition. It was the first time in history that a participant from Shimadzu Corporation won a prize in this competition.
The National Skills Competition brings together skilled technicians in Japan under 23 years old to compete in a variety of categories. Participants from various manufacturing companies who won regional qualifiers create tasks within a specified time limit and compete for accuracy and quality of their skills.
The following are comments from Nakamura and his trainer at technical school, Miki.
Comment from Fumito Nakamura
I am very happy to be Shimadzu's first-ever prize and medal recipient. For the past three years, I have been training with this goal in mind.
It has not been made by my efforts alone, but with the help of my colleagues and people in other departments, including instructor Masayuki Miki, who gave me enthusiastic advice. I would like to express my gratitude to all the members of the Shimazu Group for their support. I will continue to make the most of what I have experienced from my training for the National Skills Competition and make efforts to contribute to the quality of Shimadzu's manufacturing. Thank you very much.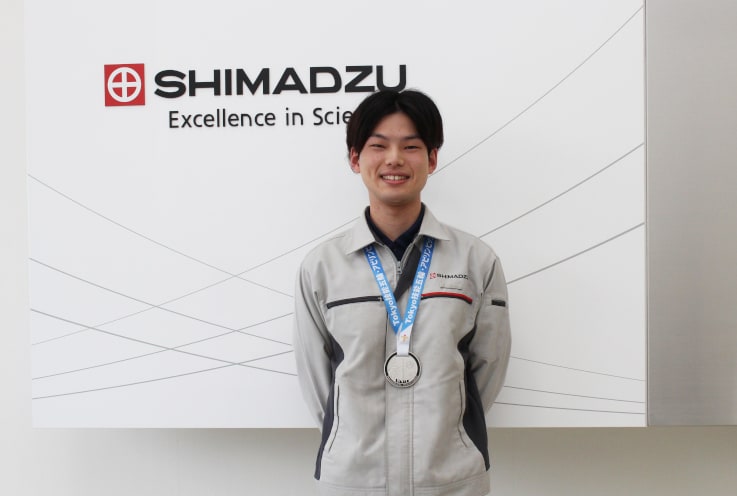 Comment from the instructor Masayuki Miki
While teaching, I always say, "I want you to be someone who can be spoken highly of by the company, and not just be proud of the company. Here is your chance." I'm glad that he realized it this time.
His performance is a result of his continued efforts pursuing accuracy and quality of 1 second and 1 μm. I am deeply grateful to all instructors and players for their cooperation. Thank you very much.
Masayuki Miki and Fumito Nakamura
National Skills Competition and Shimadzu's Initiatives
Shimadzu participates in the National Skills Competition every year to foster young skilled workers with "top-level skills," "ability to think deeply" and "ability to carry out" in manufacturing. We believe that it will help promote in-house production of important processed parts and improve production technology.
Page Title and URL Copied.