Start of the Shimadzu Original Japanese Sake Brewing Project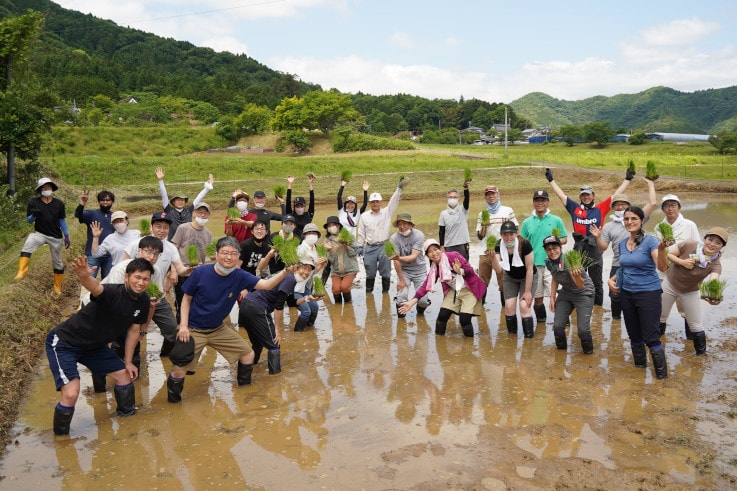 Shimadzu's original Japanese sake brewing project has started! In collaboration with a Kyoto research agency and a sake brewery, the project aims to brew Japanese sake from scratch for the purpose of contributing to revitalizing the local industry and spreading "Omotenashi" (Japanese hospitality).
As a first step to sake brewing, a workshop on rice planting was organized and hosted by the General Administration Department of Shimadzu Corporation, which launched the project. This article introduces the project and includes comments from the Shimadzu staff in charge of this long-cherished plan!
Spreading Japanese Hospitality with Original Japanese Sake
The General Administration Department launched the project in response to many requests from individuals both in Japan and overseas to deepen ties with customers through Japanese sake brewing.
It started with a search for yeast, with the idea that we should do something special that no other company has done. The plan is to develop the original Japanese sake by the start of 2023, and to give it away at an event or present it as a gift to customers as a token of our appreciation and "Omotenasi" spirit.
Promoting Health of Employees and Local Industry
This project is being pursued in collaboration with the Kyoto Municipal Institute of Industrial Technology and Culture and Shoutoku Shuzo brewery in Kyoto. Shoutoku Shuzo brewery has a long history of 377 years in Fushimi, Kyoto City. In this project, we will use Kyoto yeast from the Kyoto Municipal Institute of Industrial Technology and Culture for brewing the products. Our goal is to revitalize the local Japanese sake industry, and to create new value through interactions between different industries.
Shimadzu employees are participating in some of the process of rice planting, rice harvesting, and sake brewing. It is hoped that employees will refresh their mind through activities in nature and communication with other employees.
Rice Planting Workshop for Employees
On June 4, a rice planting workshop was held in paddy fields owned by Tanba Nishiyama, a rice farmer in Ayabe City of Kyoto Prefecture. In the midst of the beautiful natural surroundings where pheasants and storks live, 25 people, including Shimadzu Group employees, interns from overseas as well as technical intern trainees, planted rice seedlings.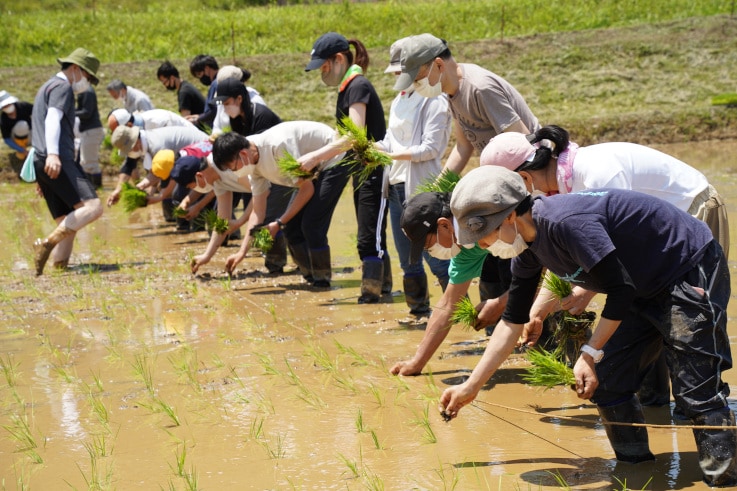 On the same day, the participants learned about green tea from tea farmers in Ayabe City and had an opportunity to hear from President Kazuto Nishiyama of Tanba Nishiyama about his thoughts on rice planting and SDG related initiatives.
Thoughts of the Employee in Charge of the Project
Hisako Hasegawa of the General Administration Department, who has planned and leads the Shimadzu Original Japanese Sake Brewing Project, provided these comments.
Many in Japan and overseas expressed an interest in deepening friendships through original Japanese sake, and we finally found a way to implement this long-cherished plan. It started with the belief that drinking Japanese sake together would give people an opportunity to chat about Shimadzu. We studied each topic and passed this information along, building a cooperative network transcending workplaces and job categories with the goal of brewing Japanese sake.

Overseas interns and technical intern trainees participated for the first time in rice planting in Japan and enjoyed themselves amidst the peaceful natural surroundings in Ayabe. The participants were attached to the rice paddies and some said that they planned to drive back later to see how the rice was growing,

Aiming for completion of the Japanese sake next year, we will hold various hands-on events to increase interest in this project and create a space for all employees to feel refreshed!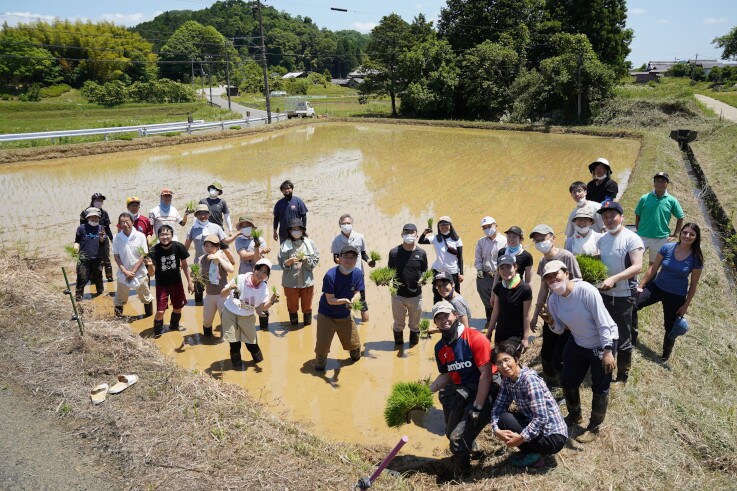 Page Title and URL Copied.